We're thrilled to announce that Oxalis attended Atlassian's Team '23 event in Las Vegas. Our team is excited to share the latest news about the Atlassian product announcements, and share how they directly impact your business. Who are these tools and updates for? And how can you best maximize your Atlassian investment with these upgrades?
Atlassian's core mission is to unleash the potential of every team. They understand that different teams work differently, which is why Atlassian has enhanced their platform to enable teams to balance autonomy and alignment, and work differently together. Did you know Atlassian just surpassed 250,000 customers? Distributed work is here to stay, and technology is a core of every business. Let's take a look at the latest product announcement and updates.
Atlassian Cloud Platform Updates
Atlassian Intelligence – Your New 24/7 Virtual Teammate
Atlassian has been integrating AI capabilities into its products for years, and Team '23 announced the most significant leap forward yet. Meet your new virtual team member: Atlassian Intelligence uses generative AI technology from OpenAI to help unlock your team's full potential. In keeping with Atlassian's commitment to security, their partnership with OpenAI includes a zero-day retention policy, ensuring that no data is stored on OpenAI systems.
Atlassian Intelligence interacts with text in Jira and Confluence to help you work more effectively by creating, summarizing, and extracting information from content. It's there when you're searching Jira issues, defining test plans, responding to customer requests, creating a new Confluence page using content from other pages – and more, and can do work for you.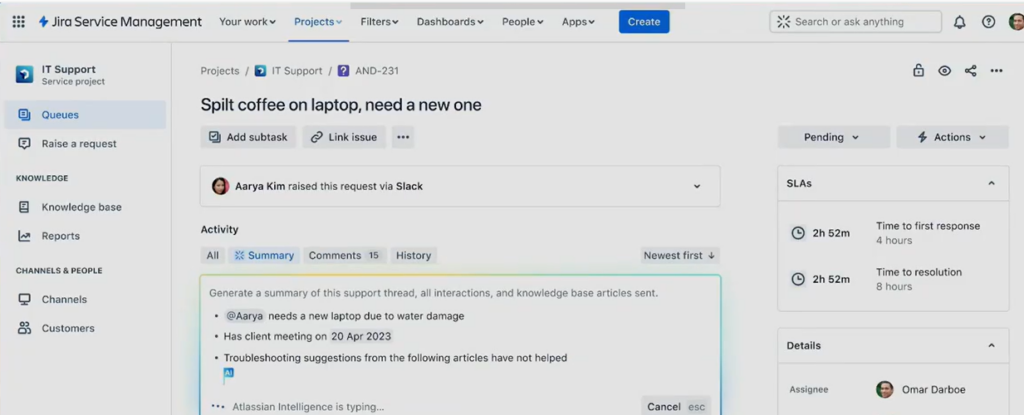 Who Can Use It?
As of this post, Atlassian Intelligence has a waitlist for beta testing. Sign up to participate in the testing.
How Will It Help?
Here are some of Atlassian Intelligence's key abilities:
In Jira issue searches: Turn natural language into JQL.
In Confluence pages: Extract decisions and actions from meeting minutes.
In Jira Software: Help define test plans.
In Jira comments: Craft the perfect response, including changing the entire tone.
In Confluence pages: Jumpstart a first draft by pulling information from multiple Confluence pages.
In Jira Service Management: Via a virtual agent, meet user needs based on its understanding of knowledge base articles, and ask follow-up questions to take any necessary actions.
In Atlassian Analytics: Turn natural language queries into the SQL you need to analyze and visualize data across Atlassian products and connected third-party tools.
Atlassian Intelligence saves users time and frees them up for more meaningful work, which can dramatically accelerate what teams achieve.
You can see Atlassian Intelligence in action in Atlassian's video demo.
Atlassian Together
Atlassian has bundled their entire suite of work management products (Confluence, Trello, Jira Work Management, and Atlas) into a single cloud subscription with a unified admin experience. Each product within Atlassian Together empowers teams to work the way they want, while removing the barriers that keep teams from fully integrating.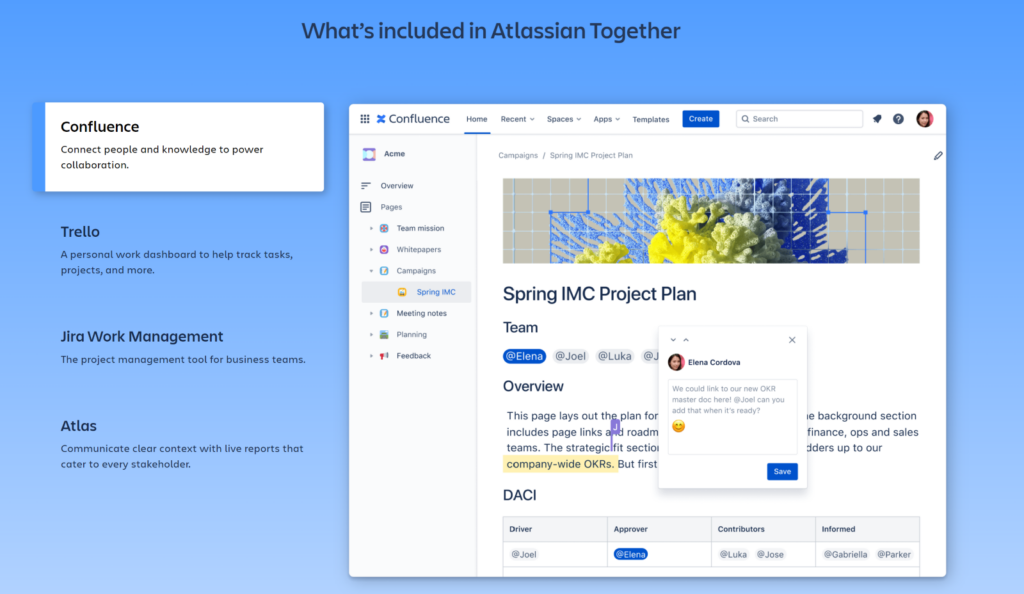 Who Can Use It?
Enterprise Cloud plans have access to this bundle.
How Will It Help?
As with insurance, bundling products saves money. But Atlassian Together's benefit extends beyond direct savings by integrating the work of entire organizations. Atlassian's products have until recently focused on enhancing the performance of technical teams, but organizations will struggle to reach their full potential as long as business teams and technical teams remain siloed,operating on completely different platforms with disparate and disconnected tools.
Atlassian Together integrates seamlessly with Jira Software and Jira Service Management. This suite of work management products unblocks open, agile transformation for all teams, enabling unprecedented cross-company collaboration. It also improves asynchronous collaboration among distributed teams, by making it easy for people to: pick up where teammates leave off, follow, track, and contribute to important work along the way. And the more employees can collaborate asynchronously, the fewer meetings they need to stay in sync – which frees up even more time to be productive.
Atlassian Analytics
Individual Atlassian products typically come with their own reporting, but for larger organizations with many products, there has been no good way to create complex reports from data across Atlassian AND third-party data sources. Atlassian Analytics meets this need, providing straightforward and adaptable methods for visualizing data from Atlassian products as well as non-Atlassian data sources such as Snowflake, Amazon Redshift, Google BigQuery, Microsoft SQL Server, PostgreSQL, and more.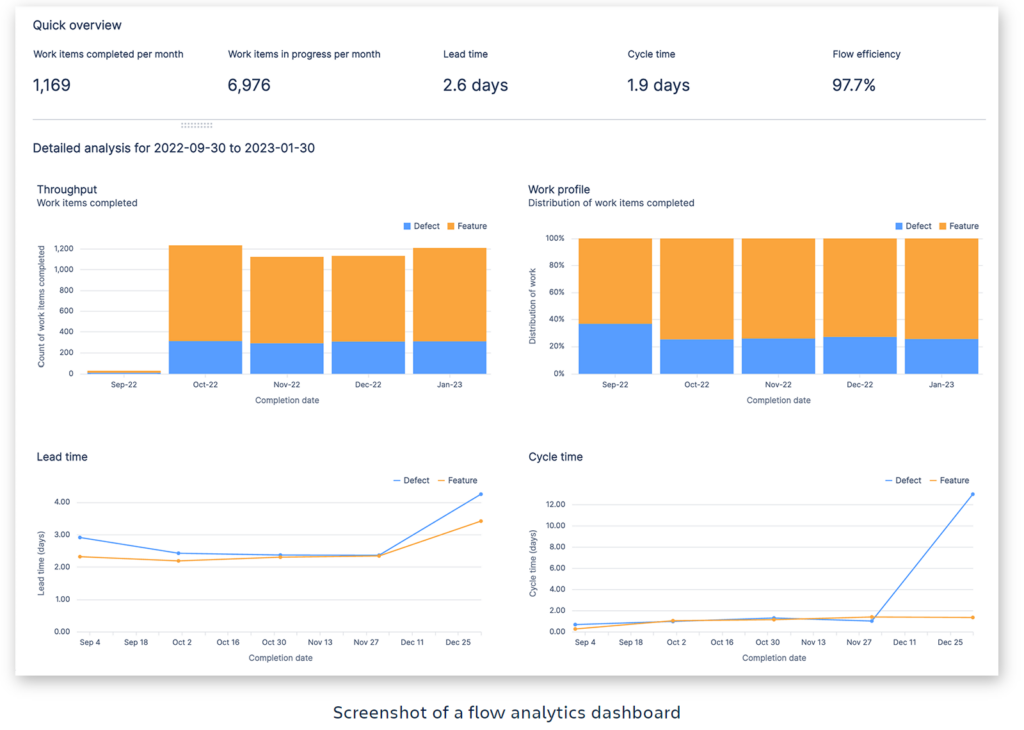 Who Can Use It?
Atlassian Analytics is built into the Enterprise Cloud plan. If you're already on Enterprise, you can add it to your site. If you're interested in upgrading to Enterprise, we can help.
How Will It Help?
Need to understand how your development cycle is delivering value to your customers? With Atlassian Analytics, you can measure the ratio of defects and bugs to the total issues completed in a given time period, while tracking lead time, cycle time, and the distribution of work completed.
Need to track key metrics across change, incident, and request management? Now you can move beyond merely monitoring trends in change request resolution, to more advanced approaches like analyzing objects in your asset and configuration management system, their related issues and projects, and time spent on them.
In Atlassian Analytics, you configure which products and instances you want to pull data from, then include or exclude projects (Jira Software, Jira Service Management, Opsgenie), assets, or spaces (Confluence). You can use pre-built reporting templates, or build custom views and spin up new charts.
This see-everything-at-once reporting solution will speed up decision-making at all levels across your DevOps, IT service management, and business teams by giving you access to more comprehensive, integrated data.
For more information, read Atlassian's product overview.
New Products
At Team '23, Atlassian revealed their highly-anticipated security product, Beacon.
Beacon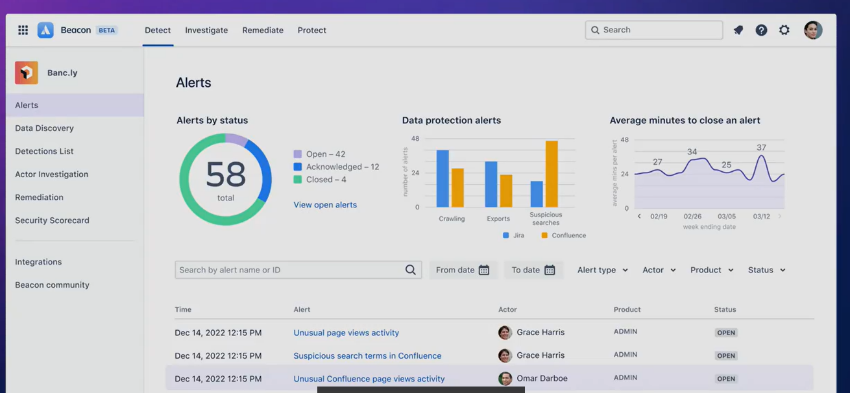 Beacon builds on an internal anomaly detection program Atlassian developed for their own security teams; it won a 2022 ARN Innovation Awards in the Vendor Innovation category. They describe it as "an intelligent threat detection engine, built for Atlassian Cloud products." Beacon provides a system of intelligence over your entire Atlassian Cloud suite, ingesting user activity and alerting you to review events that might post a risk. You may take all the precautions you can to prevent intruders from breaching your Atlassian Cloud suite, but if they do get in, you need to be prepared to catch them as soon as possible, and Beacon will help you.
Who Can Use It?
As of this post, Beacon is available for early access to all customers who sign up, and is free in beta. Keep your organization secure with the next generation of threat detection.
How Will It Help?
Beacon continuously monitors your Atlassian Cloud suite for five different kinds of events:
Authorization and access events: Safeguard your data against unauthorized access with alerts for unusual logins, policy changes, password resets, and API key changes.
Data exfiltration events: Secure the flow of information throughout your business with alerts for mass exports, audit log exports, and external syncing risks.
Unusual user activity: Spot high-risk user behavior at scale with alerts for suspicious searches and excessive crawling on Confluence and Jira.
Product configuration events: Surface insecure configurations that can impact your company's hosted data, whether they're created by accident or by malicious actors.
Integration change events: Always know which apps have access to your systems with alerts for marketplace and ecosystem app installs.
If your admins are already taking all these steps, Beacon will save them time, and you money. If they're not doing these things, then Beacon will make your Atlassian suite a whole lot more secure.
Jira Product Discovery
This new Atlassian product meets the particular needs ofProject and Product Managers on software teams, who are underserved by other Jira products. It providesa standardized, out-of-the-box tool for PMs to capture ideas – whether feature requests, bugs, input from stakeholders, etc. – organize them, prioritize them, communicate them visually via roadmap views, and convert them into Jira Software issues.
Until Jira Product Discovery, it was possible to use, for instance, Jira Work Management to handle this process, but that required Jira admins to set up each custom project, and still wouldn't do everything a PM needs in the way they need it.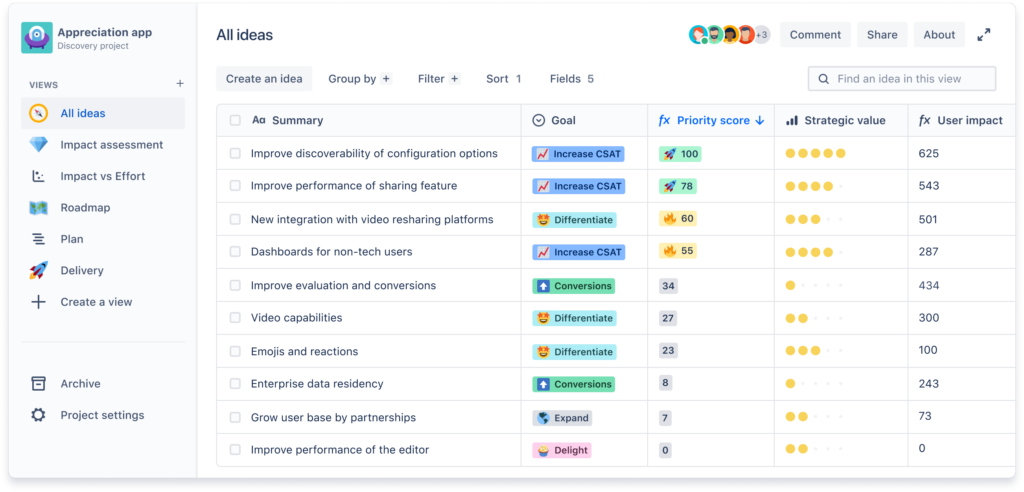 Who Can Use It?
As of this post, Jira Product Discovery is in beta for public testing. You can sign up to participate for free.
How Will It Help?
The success or failure of software teams can depend on how well the PM manages the team's workload. A hodgepodge of spreadsheets and presentations may sort of get the job done, but it doesn't maximize your team's potential.
Bring order to chaos: Collect ideas and insights, wherever they come from, in one place.
Refine and distil: Assign each one a Goal, a Priority, a Strategic Value, and a User Impact (and other fields), then add key decisions and next steps.
Build confidence in your product decisions: Use those criteria to visually compare ideas usingviews, formulas, and custom fields.
Communicate across teams: The custom Roadmaps and Plan view save time on updates, getting everyone on the same page by giving all stakeholders the what, the when, and the why.
Track the delivery: Create Jira Software issues right from the idea, then track the progress there.
Jira Product Discovery will help you do the right things, in the right order, and at the right time, focusing on work that will deliver on benefits.
New Features for Existing Products
Bring Your Own Encryption Keys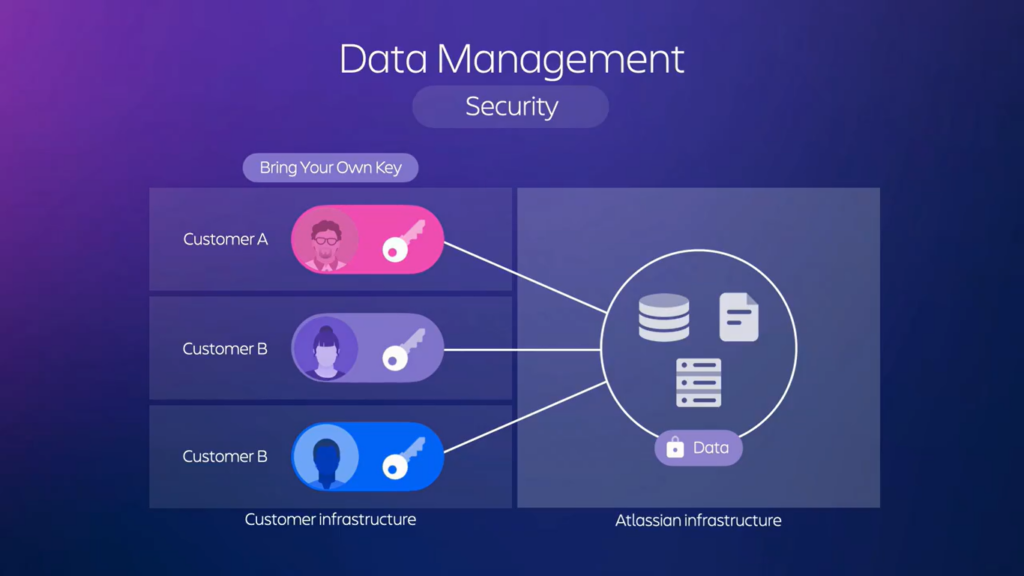 Atlassian continues to prioritize security.All customer data in Atlassian Cloud products is encrypted at rest and in transit, and until now, only Atlassian had the encryption keys. Soon they will allow you to use your own keys to encrypt your Cloud product data, affording you more control and therefore – if properly managed – an extra layer of security..
Who Can Use It?
An Early Access Program will be available Q1 2023 as part of Atlassian's Enterprise plan.
How Will It Help?
The benefits of BYOK encryption include:
Reduced risk: BYOK adds another layer of protection for sensitive data.
Improved data governance: Access to encryption keys hosted in your AWS account can be logged and monitored via AWS CloudTrail.
Increased control: You can revoke access to your encryption keys without vendor reliance.
Learn more at Atlassian's BYOK page.
Confluence Updates
Confluence is receiving various eye-catching enhancements, such as the introduction of a built-in whiteboarding content format, global commenting functionality, automation, and generative AI-powered abilities.
Confluence Whiteboards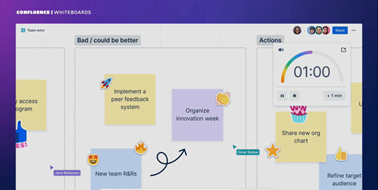 Whiteboards add a dynamic component to Confluence, giving you a digital canvas to collaborate, share ideas and visualize work with features such as stickers, shapes, lines, and more. How many times have we all posted a photo of the whiteboard from the meeting room? That gets the information into Confluence, but it's not useful or interactive. With Confluence Whiteboards, the content you add can link to and interact with Jira and other Confluence pages.
Who Can Use It?
Everyone with a subscription to Confluence Cloud, on any plan, can join the Early Access Program waitlist for beta.
How Will It Help?
Confluence's new whiteboards will add a visual, dynamic way to brainstorm, organize, and conceptualize while keeping it all digital, in a way Confluence hasn't been able to before.
Freedom of expression: Brainstorm, collaborate, and diagram on an endless canvas.
Turn ideas into action: Convert stickies into Jira issues and Confluence pages; connect Jira issues together to map out work; edit Jira issues and Confluence pages without leaving your whiteboard.
Everything in one place: Whiteboards keeping your ideas, plans, and tasks connected in one hub, providing access for all and creating transparency by automatically ensuring every team can access information.
Cost savings: Consolidate tools with a digital whiteboard for no extra cost – it is included with Confluence.
Automate, Integrate, Migrate: Everything within Confluence
Automation for Confluence enables admins to manage content, organize spaces, and notify teams of important updates without the manual overhead. When admins create rules, Confluence Automation works behind the scenes to complete routine functions that would otherwise have to be done manually. And you can use pre-built rule templates for popular Confluence actions.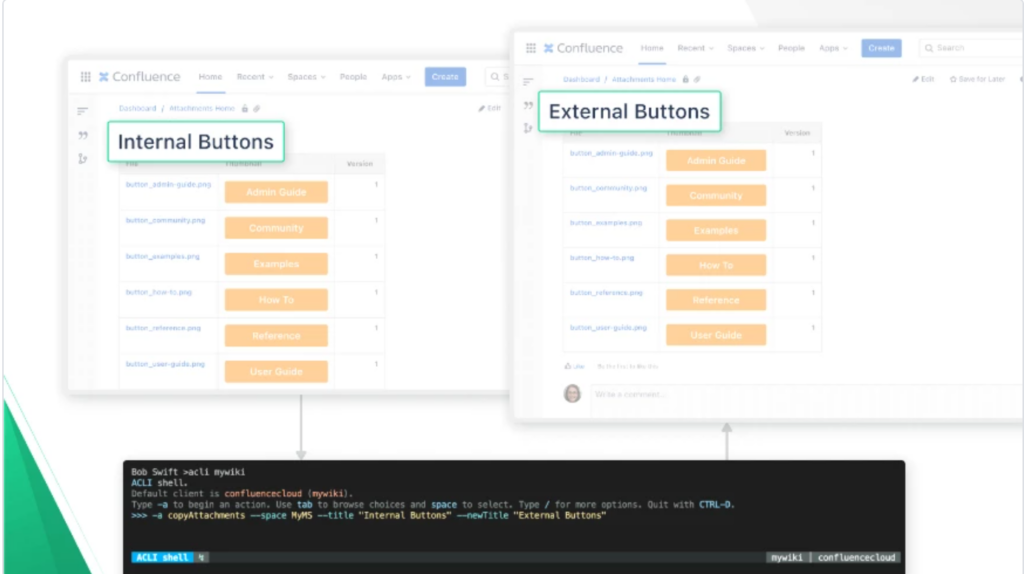 Who Can Use It?
Automation is available to all Confluence Cloud Premium and Enterprise customers.
How Will It Help?
As with Automation for Jira, this new feature for Confluence saves time on tedious manual tasks, so you can get back to the work that really matters.
Here are some of the things Automation for Confluence can do:
Send team updates on work progress.
Remind people about incomplete tasks.
Auto-archive outdated or inactive content.
Auto-label or find-and-replace page labels.
Efficiently manage large amounts of external data from sources such as CSV files, databases, and other applications through bulk operations.
Provide an intuitive, text-based user interface to help you quickly construct commands and recall past actions.
Keep a log of previous actions, available in a readable JSON format.
Learn more about Confluence Automation.
Coming Soon to Confluence: We can expect capabilities that will help enable secure and seamless collaboration with people who are not within your organization via External Collaboration, Confluence Guests, and Public Links.
What About Scalability?
Team '23 announced that Jira Software will expand from 30K users to 50K, and Jira Service Management will handle 20K agents instead of just 10K.
It's also worth mentioning that the Atlassian Admin hub serves as a central mission control where you can conveniently manage your users and product subscriptions in a single location. Atlassian constantly introduces new features to the Admin hub, such as visibility and monitoring of app and product usage through audit logs.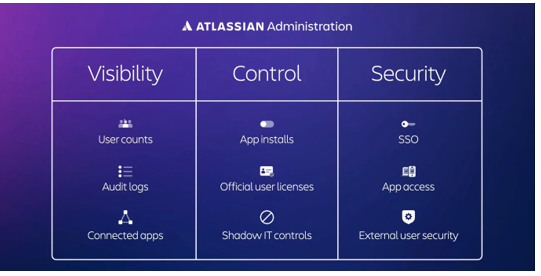 End Bad Service Management with Jira Service Management (JSM)
The upcoming updates of Jira Service Management include team-managed configurations, which let you customize the service desk according to your requirements without disrupting other teams. Additionally, JSM will introduce a Customer support template, promoting visibility and preventing silos.
Many businesses suffer from bad service management. A few of the common culprits are bloated budgets, irritable teammates, blurred vision, migraines from setup complexity, nausea from outdated experiences and paralysis death of deployments, but fortunately with Jira Service Management you can get rid of the principal IT service management pitfalls.

You can enjoy multiple advantages by using Jira Service Management such as customization, integration, workflow automation, reporting and scalability. Overall, Jira Service Management is a powerful tool for managing ITSM processes, providing businesses with the flexibility, integration, and automation capabilities they need to deliver high-quality services to their customers.
Atlassian announced a discount of 30% off the first year of JSM through June of 2023 with a 3-year commitment.
Watch Team '23 On-demand
Atlassian has made available on-demand videos from Team '23.
Start the Conversation with Oxalis
Do you have some questions or updates about the Atlassian's key takeaways? We'd like to hear your comments, contact us in the form below. We provide Atlassian consultancy services to better enable businesses to be more productive while also enabling efficiency. As an Atlassian Platinum Partner, whatever your need, the team at Oxalis can help you scale, develop, and grow.