Atlassian announced they are officially discontinuing service for Server edition licensed Atlassian products by 2024. Here is how you can prepare to migrate your systems to a Data Center or the Cloud quickly and effectively.
On Friday, Atlassian announced they would be discontinuing the sale and service of their Server products by February 2021, and end support by February 2024. For customers wondering what this means for them, we've created an informational guide to assist with the transition from Server to Cloud or Data Center, and which option best suits their needs.
While the news of Atlassian ending sale and service for their Server licenses was a surprise to many Atlassian customers, we at Oxalis see this as a great opportunity for our customers to make a calculated transition to dynamic solutions that work for their data management and collaboration strategy. Whether it's moving to the Atlassian Cloud or Data Center, there are options for many compliance needs or regulations.
What Atlassian Has Announced
In a release about Atlassian discontinuing server licenses by 2024, the Jira Software creator announced as of February 2021 they would no longer be selling new Server edition licenses to the public and they will be updating pricing for existing server licenses. According to the release, this is part of a larger strategy to become a cloud-first company.
An important note: this change does not include any Data Center Licenses.
Here's the Current Timeline
On February 2, 2021, the following changes will go into effect:

End of new server license sales: You can no longer purchase or request a quote for a new Server product.
Updates to Server license prices: Atlassian will implement new prices for Server license renewals and upgrades.
While the step in February 2021 starts a long chain of events that will eventually lead to Atlassian's discontinuation of services and maintenance for their Server license, they are allowing a 3-year window to get your hosting affairs in order. And we're here to help you through that process.
After February 2, 2024, Atlassian will no longer be supporting Server licenses. Effectively, Atlassian support and bug fixes will no longer be available for your Jira Software, Confluence, Jira Core, Bitbucket, or other Server-licensed Atlassian products. At this point, your Atlassian products need to be migrated away from self-hosted Server products to either the self-hosted Data Center edition or Atlassian's Cloud SaaS offering.
To help with the transition, Atlassian is offering three years of support and maintenance for Server edition products, as well as loyalty discounts for eligible customers who can migrate their license to the Cloud or a Data Center. They are also offering a cloud migration trial for the length of your remaining Server license maintenance (up to 12-months) if you have purchased the additional Server license maintenance from Atlassian. Contact us to figure out if you're eligible for these discounts or options.
While the cloud is Atlassian's main focus, they recognize industry needs for higher security and compliance. Therefore they are strengthening their Data Center offerings for companies in regulated industries.
Atlassian is adding some of their most powerful apps, like Advance Roadmaps for Jira, available with a Data Center license. They're also offering priority support with data center subscriptions in most user tiers. The Data Center is a strong viable offering for regulated industry or government with features such as Advanced Logging and Authorization / Authentication options that support enterprises.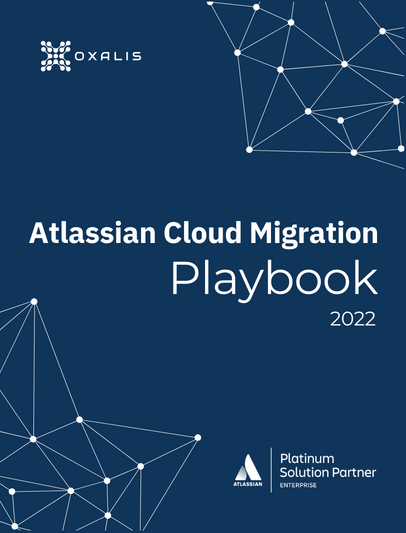 As Atlassian cloud migration advisors, Oxalis's unique expertise ensures Cloud Migration success.
The Cloud Migration Playbook, written for any company that needs to migrate from Atlassian Server or Data Center to the Cloud, covers the entire migration process from pre-planning to testing to executing the migration.
What Hasn't Been Announced
There is a lot that is up in the air at the moment, but we at Oxalis are always looking between the lines to help our customers make the best decisions for the future of their business. Here is what our team of experts are keeping an eye on:
This release is only about Atlassian products, not Atlassian Marketplace apps and plugins. While Atlassian apps and plugins are available through Atlassian Marketplace, they are not created or managed by Atlassian. Vendors have not announced their specific support plans yet based on the announcement. Therefore, until we hear from them, we recommend preparing for vendors to restrict their support of what is now an antiquated product.
The release did not mention what this means for their security-driven, highly-regulated industry clients. The heavily regulated industries could be hit hardest because moving to the Cloud—while highly secure—does not meet most high-compliance standards (government and government sub-contractors are a few industry examples). However, there are options to use the Data Center edition self-hosted or with AWS or Azure Cloud infrastructure that can support high-compliance standards. In any case, it's would behoove high-compliance companies to make a migration plan now to help save money and resources down the road.
As of right now, there is no end of life roadmap for Data Center. This is great news, as it gives high-compliance industries a clear and direct path to migrate away from their Server licensed products. If you need to meet high-regulatory requirements, this is very promising—especially considering the additional support they are offering for future Data Center licensed products.
What You Should Do
IF YOU HAVE A CLOUD LICENSE
If your Jira products is hosted on Atlassian's cloud, then there is no action required. Atlassian commits to consistently delivering high quality and value for their cloud services, and this move only solidifies that commitment.
IF YOU HAVE A DATA CENTER LICENSE?
If you host your Atlassian products in a Data Center environment, there is no action required. In fact, Atlassian is improving their level of support with their Data Center hosted products (see above). On a Data Center license, you stand to benefit from some of those changes, specifically around the addition of powerful apps that will now be included with this edition.
IF YOU HAVE A SERVER LICENSE?
Since Atlassian is discontinuing their Server licenses by 2024, if you're currently hosted on a self-managed Server edition this announcement directly applies to you. The good news is Oxalis can help your company plan a migration strategy with struct security and regulatory requirements in mind hosted within the Atlassian's Cloud SaaS or Data Center edition hosting options.
We recommend you start with reassessing your migration plan. If one of Atlassian's server licensed product was a part of your future strategy, you need to reevaluate. Creating a new or altered, future-proof data strategy will be paramount to your future success. If you are looking to create an actionable roadmap for migration with experts who will not only migrate but optimize your systems, schedule a meeting and we will get the process started.
WHAT YOU NEED TO KNOW BETWEEN NOW AND FEBRUARY 2, 2021
Atlassian will continue normal Server license management until February 2 2021, at which time they will stop selling new Server licenses and Server license pricing will increase.
This does not mean that your Atlassian and Jira software will no longer work. Rather, it means that Atlassian will begin the three-year transition away from Server licensed products. Between now and then, you will not notice a difference in how your Atlassian software performs or operates because there will be no difference.
This 4-month period is a perfect window to start thinking about a plan forward for your Atlassian and Jira Software Licenses once Atlassian starts moving.
It's also a great time to schedule a meeting with the team at Oxalis to ensure you have a proper roadmap for your migration efforts.
Lastly, this is a prime opportunity to clean up your systems and streamline processes to ensure you're receiving the best price possible for your Atlassian usage. Oxalis can help you along this process.
HERE ARE YOUR SERVER MIGRATION OPTIONS:
Self-Hosted Server to Cloud Migration
Qualification: Companies using Jira Core, Jira Software, Jira Service Desk, Confluence, BitBucket, or other Atlassian software hosted on self-managed Server who have limited or no security or regulatory requirements requiring highly-regulated data storage.
Note: Atlassian's Cloud does have high levels of security that are continually improving. Read more about it here. Are you curious if Atlassian's security compliance standards are high enough for your needs? Message us and we'll get back to you quickly with a clear and concise answer.
Why Migrate to Cloud?
Future-Proof—Atlassian has been putting most of their eggs into the cloud basket, and this move affirms that effort. With each passing month, Atlassian is dedicating more time, money, and effort to becoming the greatest cloud platform on the market, and you as the customer stand to benefit.
Product Roadmap—Atlassian has shown that they will increase the pace of cloud feature development, including the launch of some exciting Machine Learning capabilities. Features of this magnitude are largely only possible with Cloud technologies. Customers will want to consider this option as their first priority, due to the Atlassian investment in this route.
Integration—Some cloud product integrations are only possible with cloud API and capability. Atlassian has shown a commitment to allowing teams to have access to a ton of options including third party integrations. It is part of the Atlassian strategy—freeing teams constrained by the software and allowing integration to competitor tools.
No more upgrades —You are essentially offloading the feature release, product development, and hosting burden to Atlassian for a fraction of the price it would be to do all this yourself. As a business, you need to decide whether your core business competency should be impacted with the IT burden of a productivity tool. We recommend unburdening your organization.
Safe and secure—Atlassian's cloud is VPAT, FedRamp, GDPR compliant, along with several other compliance standards. See the full list here.
What are the principal advantages of migrating Atlassian Server to Cloud?
Migrating from the Atlassian server to the Atlassian cloud can provide many advantages to your organization. In this blog post, we will discuss some main advantages of migrating to the cloud, as well as the benefits of the migration process itself.
Advantages of migrating to Atlassian cloud
Improved scalability and flexibility
Atlassian cloud offers greater scalability and flexibility than Atlassian server. You can easily add or remove users and adjust your subscription as needed, making it an ideal solution for growing organizations or those with fluctuating needs.
Automatic updates and maintenance
Atlassian cloud provides automatic updates and maintenance, which can save you time and resources. This means that you don't need to worry about manually installing updates or maintaining the infrastructure, which can be a significant burden for server administrators.
Enhanced security
Atlassian cloud provides enhanced security features, such as advanced encryption, security controls, and continuous monitoring. This can help protect your data and applications from security threats, giving you greater peace of mind.
Access to the latest features and functionality
Atlassian cloud provides access to the latest features and functionality, which are not available in the server version. This can help your team stay up-to-date with the latest tools and best practices, improving productivity and collaboration.
Lower total cost of ownership
While the upfront cost of migrating to Atlassian cloud may be higher than the server version, over time, it can be more cost-effective. This is because the cloud version eliminates the need for infrastructure, hardware, and maintenance, resulting in a lower total cost of ownership.
Benefits your team can get with the Atlassian migration process
Improved data management
The migration process provides an opportunity to review and optimize your data management strategy. You can assess your data quality, identify any gaps or redundancies, and implement best practices to improve data governance.
Standardization and consistency
Migrating to Atlassian cloud allows you to standardize your infrastructure and processes, resulting in greater consistency and efficiency. This can lead to improved collaboration and productivity among team members.
Customization opportunities
The migration process provides an opportunity to review and optimize your customizations. You can assess the effectiveness of your current customizations, identify any redundancies or inefficiencies, and implement new customizations that better align with your business needs.
Streamlined processes
The migration process provides an opportunity to review and optimize your processes, resulting in greater efficiency and productivity. You can identify any bottlenecks or inefficiencies, and implement new processes that better align with your business needs.
Migrating from Atlassian server to Atlassian cloud can provide many advantages to your organization. The benefits include improved scalability and flexibility, automatic updates and maintenance, enhanced security, access to the latest features and functionality, and a lower total cost of ownership. The migration process itself also provides many benefits, including improved data management, standardization and consistency, customization opportunities, and streamlined processes. By considering these advantages and benefits, you can make an informed decision about whether to migrate to the Atlassian cloud and how to approach the migration process.
Self-Hosted Server to Data Center Migration
Qualification: Companies using Jira Core, Jira Service Management, Jira Software, Confluence, Bitbucket, etc. in highly compliant industries with regulations.
Why Migrate to Data Center?
Transition Benefits—Atlassian committed to making the transition from server licensing to their other products as easy as possible, offering loyalty discounts and adding a powerful suite of apps to their Data Center products.
Higher Security—In Data Center, you'll find stronger capabilities around Authentication & Authorization with advanced SSO and SAML 2.0 support
Security Configuration—Data Center ships with the ability to be clustered for High Availability, but also in a simple not clustered configuration if you do not have this requirement.
Reporting—Audit and logging is more advanced in Data Center allowing you to more easily achieve compliance.
Included Apps—Atlassian is bundling some of its top add-ons such as Advanced Roadmaps, to create a more comprehensive environment for your teams.
How We Can Help
Oxalis is widely regarded as the expert in Cloud Migration and Compliance Jira needs, having earned the prestigious Rising Star Partner of the Year status. As a government-verified Atlassian partner, we've implemented systems in regulated environments while protecting user data and improving processes. We have been working as an Atlassian partner for 4+ years, and we've got it down to a science.
We are committed to planning the best plan forward for your company, making this process seamless and successful. When you migrate with Oxalis, you're not just migrating systems as they are, but improving them during the process. We are dedicated to streamlining your processes while we are under the hood, saving time and money in the long term. You'll find that this migration will be more than a step needed to modernize—it'll be a top-to-bottom house cleaning that not only moves your system but cleans and organizes to function with pure efficiency.
Starting now, with the release that Atlassian is discontinuing server licenses, we're embarking on a 3-year journey together. Our team of experts will carry the weight as your Atlassian sherpa while we guide you to the promised land of secure, effortless, compliant, and effective Atlassian software.
Start with a free consultation. It will add immediate value.
Recommended blog posts
Contact us