Jira Work Management (JWM) and Jira Service Management (JSM) have similar names that could be confusing. Maybe you just started using JSM and discovered that it comes with JWM; why would you need two products? Maybe you've been using Jira for a while, and missed the fact that Atlassian renamed Jira Core to Jira Work Management – a name that better reflects the product's goal of serving business teams – and added a number of features in the process. In this article we'll review what features make each product distinctive and what features they share.
In this article you will learn:
Key differences & similarities between JWM & JSM
In-depth look at each product's most distinctive features
Which product is the right for your business?
Jira Service Management
Jira Service Management is one of Atlassian's flagship products, so we won't describe it in detail – read our introduction if you need to. While it offers a number of features targeted at ITSM teams, JSM is at heart a service-oriented version of Jira. It gives your team an organized, centralized way of managing work that comes from outside the team – whether from other teams or from external customers. As we've written about, this service model can benefit business teams as well as ITSM teams, since most business teams get work from other teams.
Jira Service Management distinctive features
Here are the major features that set JSM apart from other Jira products.
Customer portals – Easy external access for self-service and submitting requests
Request types – Customer-facing variations on an issue type that enable more granular customer support
SLAs – Monitor and manage the level of service quality teams are providing
External comments – Communicate with the customer while keeping internal discussions separate
Queues – Manage the team's work and know exactly where every issue is in its process
Confluence knowledge bases – Provide customer self-service in portals and improve agent efficiency
Sample customer portal in JSM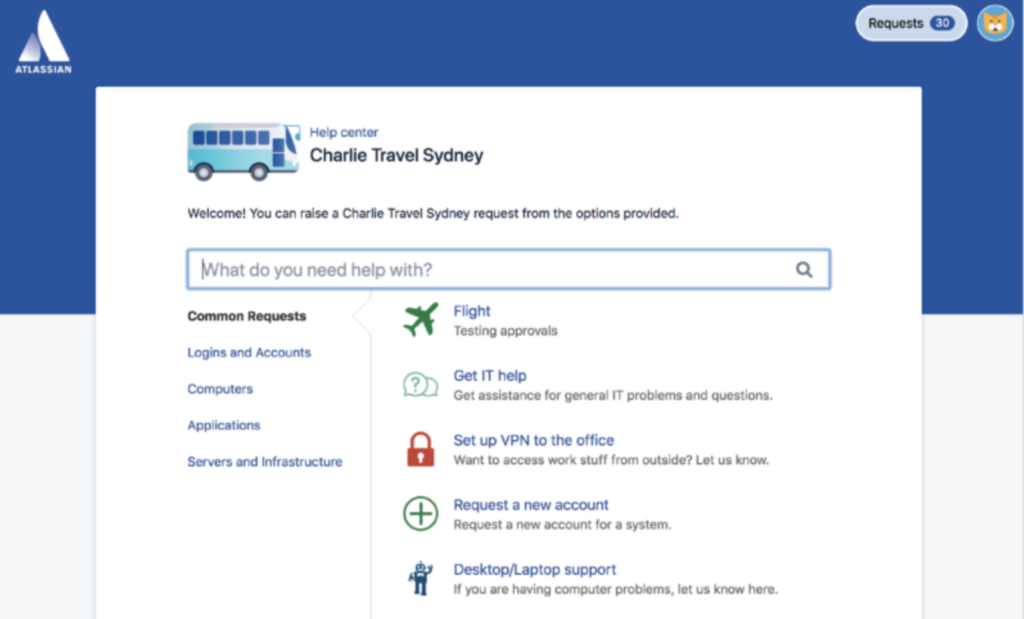 Sample project queue in JSM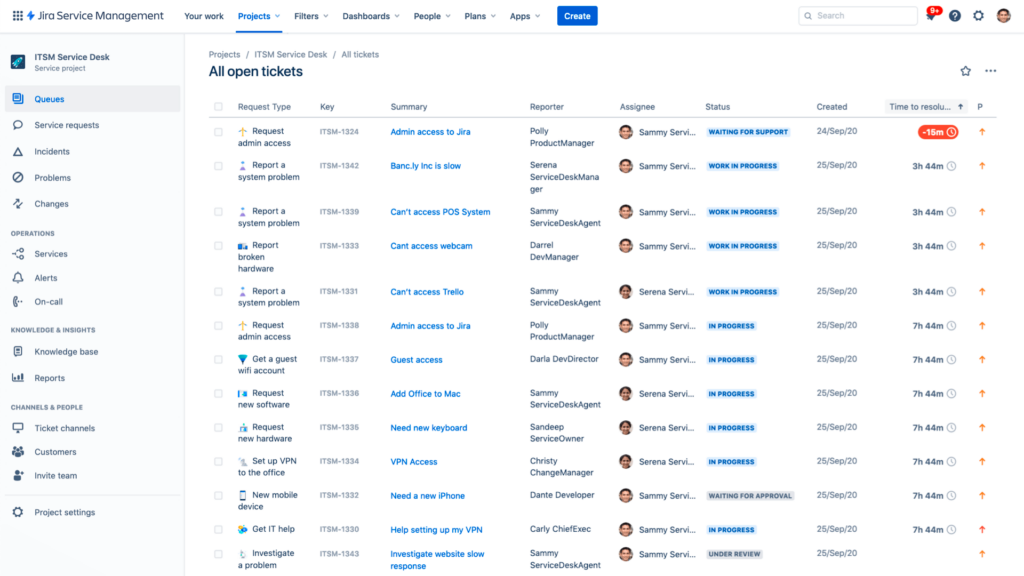 Jira Work Management
In summary, JSM offers a service-oriented approach to managing work. Jira Work Management shares many of the basic features of JSM, but is geared toward business teams and offers extra features for them. It's less complex, and cheaper, and is a good fit for some teams. While it's built into JSM, you can also get JWM on its own.
Jira Work Management takes a project management-oriented approach to managing work, offering a variety of ways to add, update, and track the tasks, resources, and timeline in a project – including the popular Gantt-style view. JWM makes it easy to keep track of progress, identify potential roadblocks, and keep everyone informed and in sync.
Just choose a project on the left, and a view or other tool from the options across the top.

Let's take a look at what makes JWM distinctive, then review what the two products have in common.
Jira Work Management distinctive features
Here are the major features that set JWM apart from other Jira products.
Project templates: for common types of business process, like document approval, recruitment, procurement, sales pipeline, email campaign, and much more. Each comes with workflows and other components that are tailored for that business process.
Summary view: shows recent activity in the project, a variety of numerical overviews of the issues and their types, number of assignments by person, and more.
Board view: shows the status of ongoing items for day-to-day work in the team, for daily work status; just drag an item between columns to change its Status.
List view: shows an Excel-like list of items and all information given by a user when completing a form.
Calendar view: shows the start and end dates (if any) of items for long-term planning.
Timeline view: shows a Gantt chart of the roadmap and dependencies between all items in the project.
Forms: let you can create one or more shareable forms, for a particular project and Issue type, that make it easy for anyone to create new items to a project.
Pages: a place to connect the project with a Confluence space, to easily access and create project documents.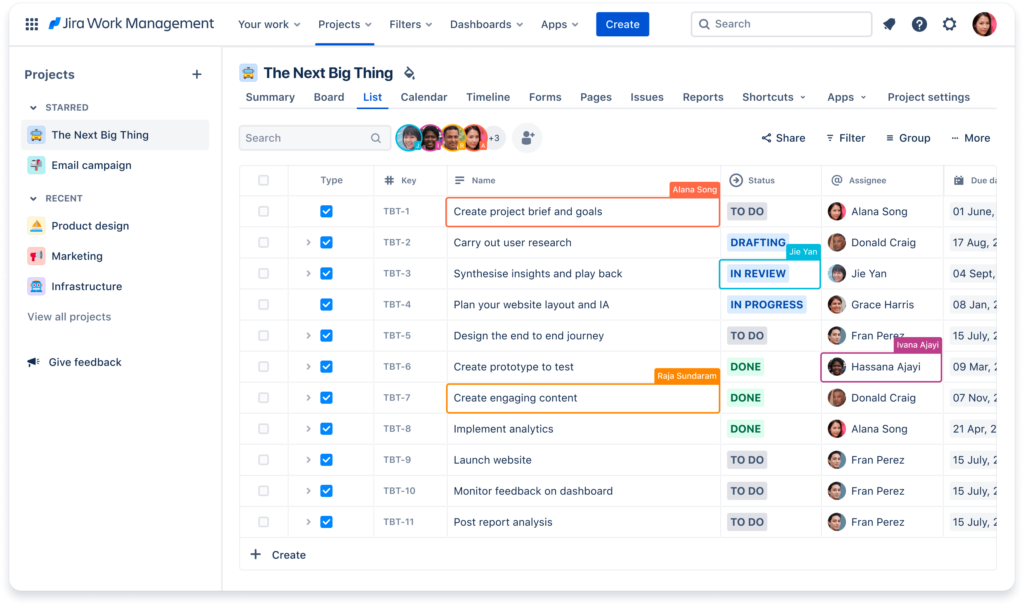 Similarities Between JWM and JSM
To illustrate how much Jira Work Management and Jira Service Management have in common, here's a list of major features they share. For simplicity sake, we're only looking at the Standard plans.
| Feature | JWM | JSM |
| --- | --- | --- |
| 250 GB Storage | | |
| Unlimited projects | | |
| Unlimited tasks | | |
| Business project templates | 24 | 10 |
| Custom fields | | |
| Customizable workflows | | |
| Apps and integrations | | |
| Single-project automation | Unlimited | Unlimited |
| Global and multi-project automation | 500 executions/mo. | Unlimited |
| JQL filters | | |
| Dashboards | | |
| Reports | | |
| Issue-level security | | |
| Audit logs | | |
As is true with all flavors of Jira, these features mean that both products can be heavily customized and extended to work for your particular needs.
JWM vs. JSM: Which Is the Best Fit?
Now that we've reviewed the similarities and differences between Jira Work Management and Jira Service Management, here's a summary of who each product is the best fit for.
JWM might be a better fit if…
Your team is using a modern project management tool for the first time.
Your teams work on smaller or less complex projects.
You just don't think the service model makes sense for you right now.
Your admins have limited bandwidth that would make configuring and/or managing JSM a challenge.
You want the project-planning tools that JSM lacks.
JSM doesn't make financial sense at the moment (but don't underestimate the potential productivity gains from JSM's service model!).
JSM might be a better fit if…
You're ready to take team productivity to the next level with the service model.
You need external customers to be able to submit work easily, and you want to track that work with agents working queues.
You want to track service level agreements.
Having dedicated projects with special features to manage IT assets, incidents, problems, and changes appeals to you.
Your teams have the bandwidth to create knowledge bases that enable customer self-service and improve agent response times.
Oxalis Can Help
We can review your business teams and requirements, and recommend an approach that works for you.