As organizations across various industries transition to agile development, you may be wondering—should you follow suit? While created for software development, the agile approach's focus on self-organizing, cross-functional teams who use adaptive planning, early delivery, and continual improvement can be applied in other areas too. In fact, agile has even been applied to family life.
Once you decide to go agile, you need a good tool to implement it with. Jira's success with agile development teams (and service desk organizations) obscures the fact that it's well-suited for a wide variety of business processes. Teams have used it for purposes as different as handling document review with approvals, tracking the inspection of power lines—even managing the repair of US Navy ships.
Wait, what is Jira?
Jira Software is an Atlassian software platform for work tracking and project management. For agile work, it offers both Kanban projects for ongoing work management, as well as Scrum projects for iterative, delivery cycle-based work management. The two fundamental elements Jira offers to organize work are: the project, which can be a classic project with a defined endpoint or a bucket for a team's ongoing work; and the issue, which is a unique document that holds almost any data you want, comes with a workflow that can be adapted to fit whatever business process you need, and stores all user communication about the document via comments.
Notable Jira features include: highly-customizable workflows for issue tracking, a flexible and granular user permissions model, notification schemes and in-issue communication with @mentions, robust reporting and dashboards—and for agile teams, epics, sprints, stories, releases, versions, boards, and roadmaps. Jira allows users throughout the entire organization the visibility and control needed to track projects in real-time with complete transparency.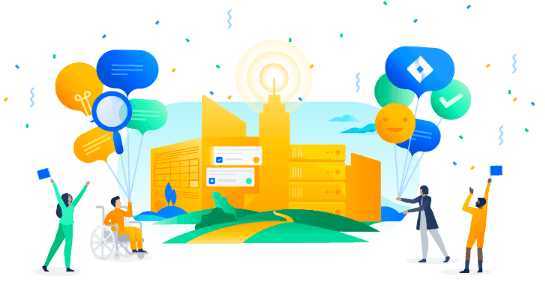 Realistically reflect your unique processes.
Each team is unique, and you need a work management tool that adapts to your team rather than forcing you to adapt to it. In addition to Jira's built-in flexibility, a marketplace full of thousands of add-ons helps you make Jira work for you. You can even create your own add-ons using the extensive API. If you need a custom field that pulls from a custom database, Jira can do that. If you need to push data to another application when a process completes, Jira can do that. If your workflow spans five different teams and requires custom notifications at multiple points, Jira can do that. Whatever the nature of your team's work, Jira can help you do it more collaboratively and more efficiently.
Embrace change and prepare for the future.
The reality is, however, that while you can define your workflows and business processes to reflect how you work at a a given point in time, most organizations make frequent changes to those flows and processes in order to achieve objectives and adapt to changing markets. Well, change is central to agile thinking. The same flexibility and customization Jira provides you to meet today's needs will help you meet next month's, next year's, and next decade's needs. Say you take on a large new customer who requires some special handling in your workflow. Rather than changing the workflow for all your customers, or creating a separate workflow for the new customer that's mostly the same as your regular workflow, you can add a hidden field that tells the workflow "only show this part to our new customer." Or say there's a reorganization of your teams, and now half your users are in different teams who report to different managers than before. Jira lets you manage users using both groups and roles, which enables you to move people around without having to touch your workflows.
Real-time reporting, tailored to your audience.
Reports can be rendered at any point within the workflow process to reflect the progress of specific projects. This can be tailored to any level or your organizational hierarchy, allowing varying degrees of visibility depending on the audience viewing the report. This allows real-time progress updates which can be rapidly produced, in order to increase communication regarding project progress.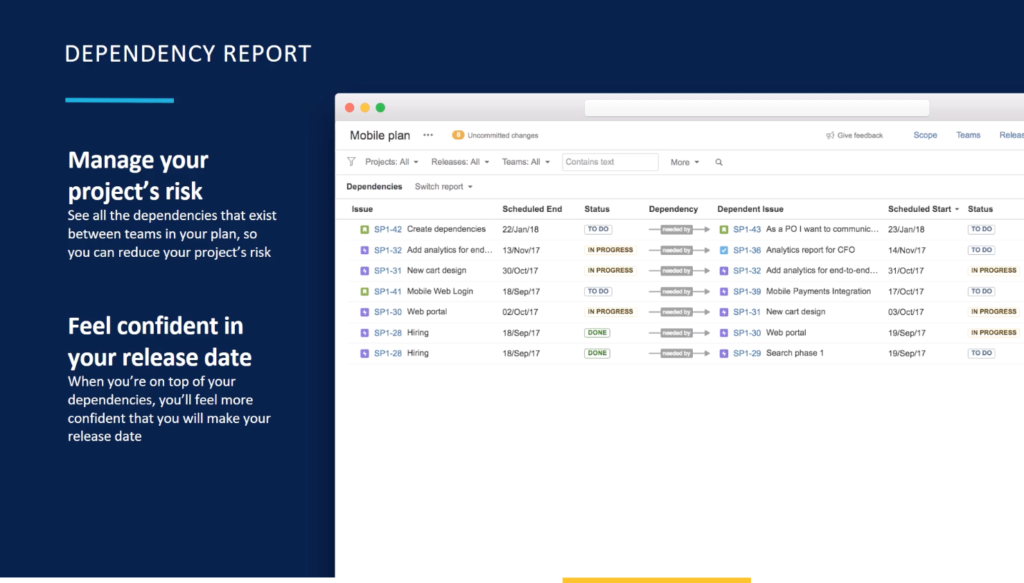 Cross-department collaboration
In reality, projects are often shared between multiple departments across an organization. This can cause discontinuity within workflows when communication is not abundantly apparent between teams. Jira allows projects to be broken down into smaller boards, based on issue types. This allows users to focus on only pertinent issues to them while also protecting data irrelevant to their work within a project from being accidentally changed or lost. Users will have only relevant information to their section of the project but can still share issues across multiple boards without changing the specific issue's progress in another. This allows multiple users to more clearly visualize and communicate the work they are doing, across different departments within an organization.
---
Agile development has become the new normal, not just for IT departments.
Now is the time to transition agile to elevate and progress your processes. Reflect your workflows within Jira, realistically, to help institute positive change and increase cross-team collaboration. Scale agile and Jira across your non-software team to help institute agile development at scale! Our team can help, with our Jira consulting services.
---
Ready to take the next step? Schedule your demo, today