Presumably if you're reading this, you are familiar with Jira Service Management, Atlassian's high-velocity, collaborative ITSM platform.
Adopting IT Service Management (ITSM) has a big impact on many teams, and software such as Jira Service Management (JSM) brings together the development, IT operations, and business departments in order to adapt rapidly to changes and provide outstanding customer service.
In this article, we'll look into the Five highest-rated strategies for using Jira Service Management.
#1 Educate yourself
#2 Optimize Your Portal Pages
#3 Optimize Your Queues
#4 Knowledge Bases Are Your Friend
#5 Make the System Do the Work
---
Maybe you've decided to move to Jira Service Management and want to do it right.
Maybe you've been using this tool, and want to get more out of it.
Either way, observing JSM best practices will get you there. Even non-IT teams like legal, HR, and finance are using it successfully. So how do we distill the top five JSM best practices, given the wide range of teams it works for? We focus on the key features that deliver value to all teams.
#1 Educate Yourself
You're already paying for JSM – don't leave money on the floor. Educate yourself about everything it can do: read articles, read blog posts, read the documentation, watch quality videos – hire experts. Think beyond service and operations teams; JSM works well for all sorts of teams. Use it for internal as well as external customers.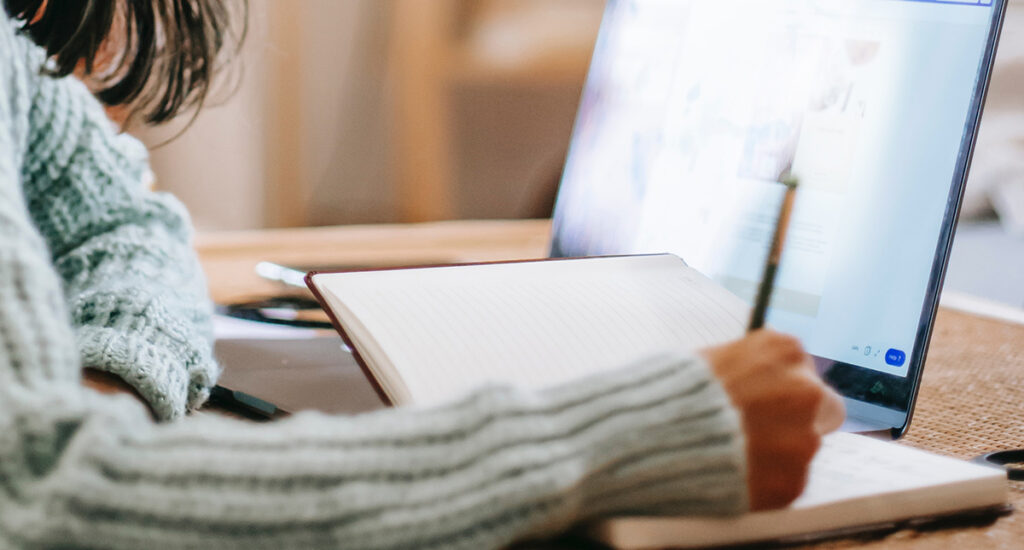 Research plugins that can extend JSM's abilities and integrate with other systems. Consider some custom development yourself – within JSM, workflows can be heavily modified using custom code, and Jira has an API, allowing you to develop nearly anything you want.
The single JSM best practice is to get every ounce of value from JSM that you can. We think you'll be astounded at how much that is.
#2 Optimize Your Portal Pages
Your customer portal pages, and the request types available on them, represent you to your customers. That's all they see, and often all they know! Each portal page should be configured and customized to meet their needs.
They need to know, quickly and clearly, how to use the portal and where to go if they have questions. They need neither too many nor too few request types and groups to choose from – though if you're just starting out, fewer is better since it's easier to identify additional types and add them. And they need to see only the request types that are relevant to them.
Request type names and descriptions should be written for their point of view and language, rather than for the agents who will work them. Form fields should have descriptions and instructions. Hidden fields and automation should route as many requests as possible to the right people, without your customer lifting a finger.
#3 Optimize Your Queues
Queues are your agents' primary means of interacting with JSM, since the Queues page tells them what work needs doing. As with portal pages, queues need to be named, configured, and organized to meet the users' needs: your agents. Each agent is part of a team, and needs to be able to work with that team; use Team Priority queues to facilitate that.
Since everyone works differently, make sure agents know how to use Starred queues.
Your goal is to use the Starred, Team Priority, and Other groups to balance what's key for the team with what's key for each agent. And compare all your queue filters against each other to be certain there aren't any gaps – the last thing you want is requests that don't show up anywhere.
You can also test your queues by advancing issues through their workflows, and checking at each step whether they're in the proper queue(s).
Agents also need to be able to work productively with their queues. The more issues a given queue has in it, the harder it can be to work with and the easier that overlooking requests becomes. Too many columns clutters the agent's view and slows them down, while too few jeopardizes their ability to work a request effectively and accurately.
#4 Knowledge Bases Are Your Friend
The Knowledge Base (KB) feature of JSM is an efficiency tool that gets better with time, and serves both your portal users and your agents – if you let it. When appropriately configured, a project's KB helps you two ways. First, it lets portal users answer their own questions without taking any of your agents' time. Second, when an agent is working a request, the KB feature suggests content that might be relevant to that request. Let's look at those.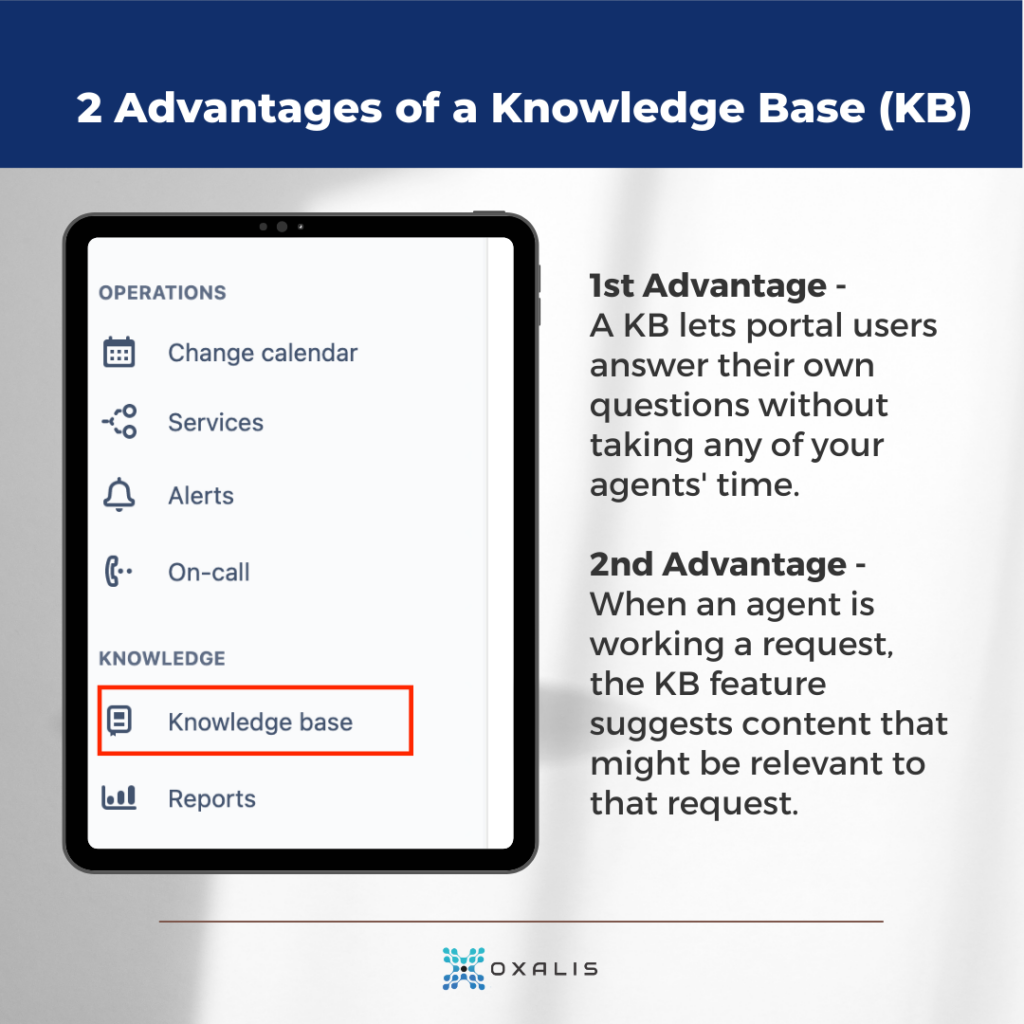 Each KB article you create will answer one or more customer questions over and over. As a portal user types in the Summary field of a request form, JSM searches that project's KB for the text they type, and suggests matching articles.
If a portal user doesn't happen across the right article in the portal, an agent can easily reply by sharing it in a comment.
You can monitor how effective your KB is, to a certain extent, using the default reports.
"Requests deflected" shows per day how many portal users read a KB article and hit the 'thumbs up' button to answer the question "Did this article help?" at the bottom of the page; most users won't take the time to do that, so that metric is of limited help. But the report also shows how many KB articles are viewed each day, and as you add to your KB, you can track that trend vs. the number of requests submitted, to get an overall sense for how well your KB is helping customers.
For agents viewing a request from within Jira, a Knowledge Base field in the issue will indicate how many articles match the words in the Summary field. That makes it easy to identify articles that may resolve the user's request. But there's more!
Under the issue's details section, agents will see a "Similar requests" section that lists similar previous requests based on the Summary and Description fields. This is how a well-used KB gets better with time – agents save time on more and more requests because they can easily see how similar requests were resolved, rather than having to figure each one out separately.
#5 Make the System Do the Work
When implementing JSM, it can be easy to focus on agents and how they work incoming requests.
There is not just one, but but two ways you can reduce the amount of repetitive work your agents do:
Workflow customization, and Automation.
Workflows are obviously a key feature of all versions of Jira, and you may be familiar with the workflow editor. But customizing workflows goes way beyond adding transitions and statuses, or populating fields, or using whatever predetermined options an app may add.
Jira allows you, through apps such as Scriptrunner, to write your own Java code that executes either in a transition or whenever a system event occurs.
That code, using Jira's and JSM's APIs along with any publicly accessible Java library, vastly expands what your workflows can do for you. Complex math, complex logic, complex transformation of field content, integrating with other systems using their APIs – all this and so much more is possible.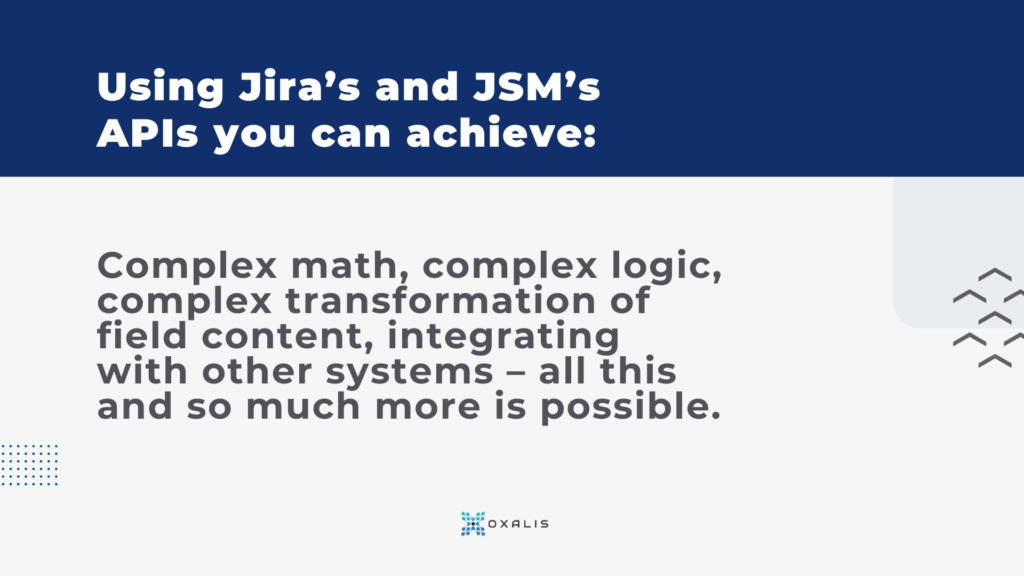 Automation is a per-project JSM feature for building simple if-then workflows called "rules" that fire off whenever the defined trigger event occurs. You can configure your own by choosing what event(s) trigger the rule (like "Rule is run when an issue is created"), what additional conditions have to be true (like "Request Type equals Promotion"), then what happens – or you can use built-in templates like "Resolve issues due to inactivity" or "When an incident is created, create a post-mortem page in Confluence."
Because Automations are just a list of rules that can easily be individually configured and enabled/disabled, they're generally easier to work with – but you do have to add them to each project. Workflow customizations, on the other hand, may be more involved to work with, but are shareable and much more powerful. Jira Service Management gives you both options.
More Reading in JSM Best Practices
Atlassian's JSM is a complex product, useful for change management, incident and problem management, service operations and support, and much more. If you want to dive into JSM best practices for different teams and individual features, Atlassian has a good starting place.
Get More Information
To get started, simply fill out the form below with details about what you are looking to achieve.
An expert member of our team will be in touch shortly. With Oxalis, you can expect results, not excuses.