We're thrilled to announce the Oxalis team has been working on an NSRP Rapid Adoption Project (RAP), in partnership with the Navy and Fincantieri Marine Repair (FMR), to expand the capabilities of the Oxalis Ship Repair Mobile Application. This new functionality will support the digital capture of records, including Condition Founds Reports, improving efficiency and decreasing the cycle time to submit various records.
Key Mobile App Capability Updates
Support new record capture in the Oxalis Ship Repair System, including Condition Found Reports
Mobile record creation is built for scale and expansion, with the ability to support any type of record, such as Hot Work Permits
Leverages existing functionality of the mobile app including offline capabilities
A Quick Recap:  
In 2022, Oxalis completed a pilot of the first release of the Oxalis Ship Repair Mobile Application in partnership with FMR. Oxalis developed a secure, offline-capable mobile solution for digitally executing checkpoints, including capturing signatures. This led to a number of benefits for shipyards and their customers, including:
Reduced cycle time for checkpoint result submission to Navy Maintenance Database (NMD)
Elimination of paper forms and the need for contractors to manually transcribe checkpoint results
High-quality digital OQE to simplify audits and availability certifications
Support Contractor and Navy goal of achieving digital workflow and increasing the efficiency of data flow
Following the success of the pilot with FMR and the rollout of the mobile app to multiple shipyards, Oxalis was awarded an NSRP RAP to expand the capabilities of the mobile application to support Condition Found Report capture. The Oxalis Ship Repair Mobile App is an integral part of the larger Oxalis Ship Repair System, which acts as a central hub for coordinating and managing work and document flows throughout the repair process.
---
NSRP Rapid Adoption Project (RAP)
Why RAP? The Rapid Adoption Project model enables a collaborative framework for the development, delivery, and pilot of new technologies and processes to improve efficiencies across the U.S. shipyard industrial base. Through the program, Oxalis is able to quickly develop, iterate, implement, train, and pilot the solution with Fincantieri Marine Repair in less than 6 months.
The Rapid Adoption Project encompassed two critical aspects:
Training and field testing. While the project was not primarily aimed at proving the technology itself, we acknowledge that mobile technologies' benefits to distributed workforces have long been established. Instead, we focused on refining our system and ensuring seamless integration within various Maritime operations. By investing in extensive training programs and rigorous field testing, we have fine-tuned the Oxalis Ship Repair System to meet the specific needs of the industry.
Meeting Tactical Needs: Condition Found Reporting (CFR): Within the comprehensive Oxalis Ship Repair System, one particular area where we have addressed a pressing need is condition found reporting. Recognizing the importance of timely and accurate submission of CFRs, our team at Oxalis has been working diligently on creating digital solutions to enable efficient CFR submission and approvals.
Project Timeline
As of June 2023, we anticipate development and pilot testing with FMR to be complete by August 2023. The next steps are to execute the first pilot availability using the updated Oxalis Ship Repair Mobile App.
The Rapid Adoption Project is not about proving technology. We've proven technology, mobile technologies through OSRS.  The benefits of this system aid an underserved and distributed workforce. Its software capabilities for Shipyards and Maritime companies are unlike anything on the market today.

– Micah Waldstein – Director of Product Management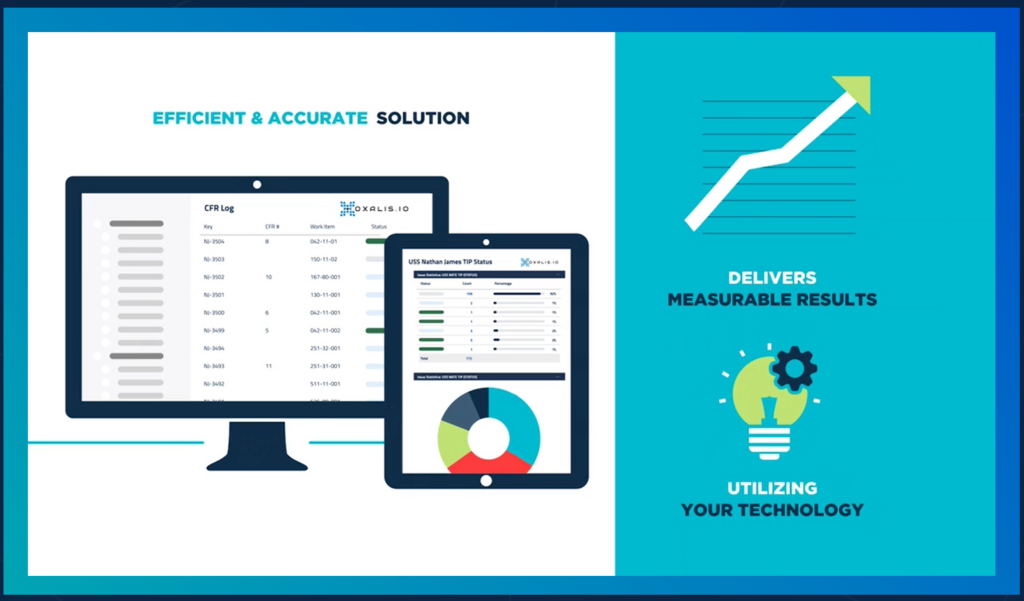 Takeaways:
The Oxalis Ship Repair Mobile Application is an integral part of a larger system OSRS that coordinates and manages work, process flows, and information from various stakeholders involved in the repair process.
The results of our first pilot using the mobile application for checkpoint execution are described in our "TIP Mobile Application Pilot Results" whitepaper. If you'd like to request a copy of the report, please do so using the form at the bottom of this page. 
The Oxalis Ship Repair Mobile Application is an offline-capable mobile app integrating with the Oxalis Ship Repair System that supports the digital execution of checkpoint results and the submission of new records, such as Condition Found Reports.  
Oxalis developed a roadmap and framework for introducing new digital technologies across the U.S. shipyard industrial base. 
The implementation of the Oxalis Ship Repair System has demonstrated significant improvements in Maritime and Shipyard processes. Our commitment to continuous improvement, extensive training, and thorough field testing ensures that our solution meets the specific needs of these industries.
We are expecting to conduct a webinar demo later this year and are excited to continue to share updates with you.
Learn More
Count on Oxalis, for experienced maritime technology solutions and get the results you deserve. We believe that our work on our NSRP app could be of great interest to you to scale your operations.