In today's digital landscape, businesses are constantly seeking ways to boost productivity. For many, the answer lies in leveraging powerful tools like Atlassian's suite of software products, including Jira. However, implementing and configuring these tools effectively can be a daunting task. Without thoughtful design, productivity tools can be cumbersome and misaligned with established processes. Similarly navigating the extensive product offering can be daunting, and Platinum partners are authorized resellers that can not only pinpoint the most optimized usage scenario but procure your Atlassian licenses at the best value.
This is where Atlassian Solution Partners come into play. In this blog, we'll delve into what it means to be an Atlassian Platinum Solution Partner, what it takes to achieve this status, and why working with one, such as Oxalis, can make all the difference in your business's success.
What Is an Atlassian Solution Partner?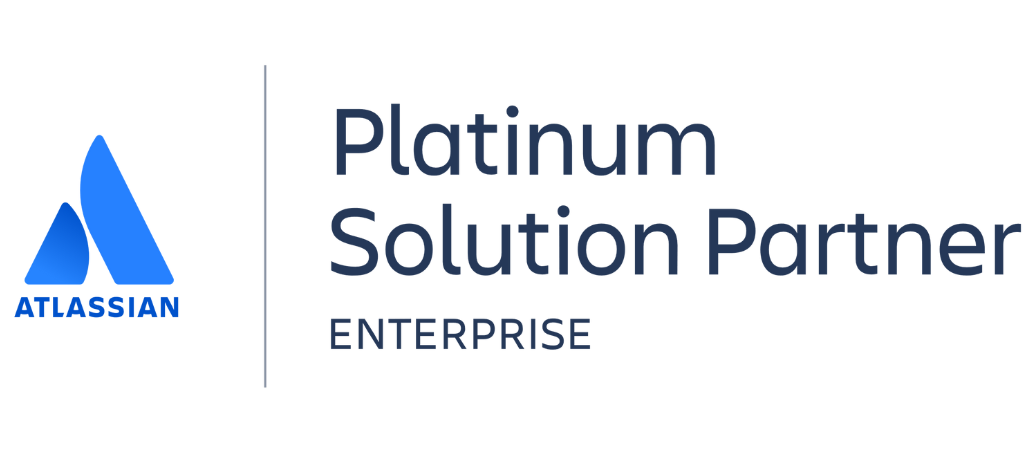 Atlassian's Solution Partner program enables Atlassian to serve market needs better by identifying organizations with expert Atlassian consultants, advisors, trainers, and thought leaders. There are three tiers of Solution Partners which are defined by the level of expertise and past performance a solution partner proves: silver, gold, and platinum.
Expertise That Sets Platinum Partners Apart
Atlassian Platinum Solution Partners are organizations recognized for their exceptional expertise in enterprise-level Atlassian products and services. These partners have demonstrated proficiency in delivering top-notch solutions and support, making them trusted advisors to businesses worldwide.
Consultants for Atlassian Platinum Partners are well-versed in tailoring Atlassian tools to meet the unique needs of various industries and businesses, whether they look to innovate current practices such as Project Portfolio Management, Agile at Scale, ITSM, DevSecOps, or more.
Platinum Solution Partners also stay at the forefront of technology trends, ensuring that they can offer clients the latest features and integrations available in the Atlassian ecosystem. Their Atlassian consultants continuously sharpen their skills through training and certifications, guaranteeing that clients receive the highest level of service and expertise.
Why Work With an Atlassian Platinum Solution Partner?
Partnering with a Platinum Solution Partner like Oxalis offers several distinct advantages for businesses seeking to implement or configure Atlassian tools:
1. Unparalleled Expertise
Platinum Solution Partners possess a level of expertise that sets them apart from the rest. When you work with them, you're tapping into a wealth of knowledge and experience, ensuring that your Atlassian tools are optimized for your specific requirements. Platinum partners are required to meet extensive certification, training, and experience metrics to achieve this status.
2. Optimized Atlassian Jira Licensing
Platinum Solutions Partners are not only certified, but also trained, and possess the highest degree of implementation experience, they are authorized by Atlassian directly to resell Atlassian licenses. With a Platinum partner, you can get the most value for your Atlassian license with the most optimal configurations. Your partner will be knowledgeable of all the available promotions and rebates to further cost-optimize your configuration.
3. The "Red Phone" access to Atlassian
Your partner has invested significant time, energy, and expense into their own relationship with Atlassian. The result is a relationship through the channel that allows for greater insight into what's coming, how to get internal problems resolved, access to dark features, and a myriad of relationships that span into the partner marketplace and beyond. The result of your relationship with an Atlassian partner is access to unparalleled knowledge and relationships. Your one relationship with a partner like Oxalis will pay dividends in getting almost any situation resolved, strategies aligned, and relationships built with all the right folks regardless of organizational affiliation.
4. Proven Track Record
Platinum Solution Partners have a track record of success. Their portfolio of satisfied clients and successful projects speaks volumes about their ability to deliver results.
5. Access to the Latest Innovations
These partners have their finger on the pulse of Atlassian's ever-evolving product offerings. They can provide insights into the latest features and integrations, helping you stay ahead of the curve.
6. Tailored Solutions
Platinum Solution Partners take the time to understand your unique business challenges and goals. They create custom solutions that address your specific needs, ensuring maximum ROI.
Oxalis: Your Trusted Atlassian Partner
At Oxalis, we pride ourselves on our status as an Atlassian Platinum Solution Partner. Our commitment to excellence and our dedication to our clients make us a choice partner for businesses looking to harness the full potential of Atlassian tools. Our team of experienced Jira consultants and Atlassian experts is ready to guide you on your journey to success.
Our partner-based model ensures that we work closely with our clients in a collaborative and transparent relationship. We understand your challenges and aspirations, and together, we'll chart a path to achieve your goals using Atlassian's powerful suite of products.
Choosing an Atlassian Platinum Solution Partner like Oxalis is the smartest move for businesses seeking to optimize their use of Atlassian tools. With our unmatched expertise and client-centric approach, we empower you to navigate the complex world of Atlassian effortlessly. Partner with Oxalis for a brighter future with Atlassian.
Contact Us
Oxalis is able to bring our Platinum level expertise to multiple customers successfully. Find out how we can help you today.