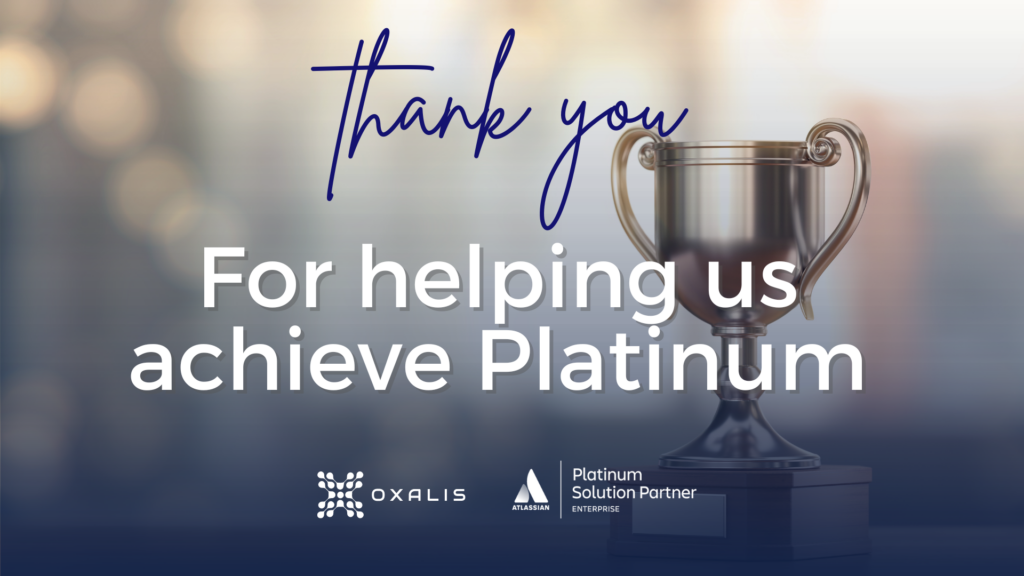 Oxalis is delighted to announce we have reached Atlassian Platinum Solution Partner status. We joined to the Atlassian partner program in November 2018, once year later we won the Rising Star AMER award. Now in 2022 we got the Platinum – Atlassian's highest award.
Attaining Platinum status requires the Partner to achieve the highest levels of staff experience, product knowledge and proficiency. Values which will be returned to our customers via our superior service delivery and support. Thanks to all our customers for trusting Oxalis and helping us reach this milestone. We would also like to thank Atlassian for their support and dedication in helping us reach this goal.
Oxalis team is expanding and committed to delivering scalable Atlassian solutions to Government and commercial sectors for all customers.
"We're excited to continue working with Atlassian to serve Enterprise customers. Achieving Platinum affords us the ability to better serve our customers of all sizes and industries and is recognition of our knowledge and effort to do so."

Jonathan Malanche, CEO at Oxalis
What does Platinum mean for our customers?
New and existing customers should see across-the-board improvements to our service and support. By being a Platinum Solution Partner, Oxalis has premium support to expedite customer requests with quick resolution times. Our certified staff ensures your requests are handled by knowledgeable and qualified experts.
Oxalis is proud to continue to be your trusted expert for all of your Atlassian needs!
About Atlassian
Atlassian is an Australian Software company that develops technology products to simplify work management and increase productivity amongst teams. Atlassian partners globally to implement their products and maximize customer value. Platinum status is the highest level a Solution Partner can achieve.
Oxalis can help your enterprise succeed
Evaluate your current Atlassian services and expenditure to make sure you're getting value for money.
Implement improved workflows to streamline your team collaboration and business efficiency
Execute a tailored plan and ensure you are utilizing all tools to their full potential through our Atlassian professional services.
Atlassian license management, Oxalis makes it easy to acquire, renew or upgrade your Atlassian cloud licensing. Contact us to learn more about Atlassian license cost.
On February 2024, Atlassian server will be discontinued, as an Atlassian platinum partner we can take you to the Atlassian cloud. If you're on server or data center, contact us to learn more about Atlassian cloud costs.
Lucid Software success story
Oxalis helped Lucid migrate the company's on-premise Atlassian tools to the cloud in 30 days. This made Lucid a SaaS leader, saved time, encouraged innovation, and improved employee satisfaction. This Atlassian migration to cloud, helped Lucid to unlock multiple advantages for their Atlassian products and apps. Along the way, Lucid achieved big wins and learned important lessons.
"We trusted them as experts, so we were able to come together, filter out the noise, and collaborate on solving the truly hard problems."
DAVID TORGERSON | VP of Infrastructure and IT
Get your plan Atlassian migration plan with Oxalis
Get increased productivity, unlimited storage and flexibility for your teams with high security and automatic updates. Contact us to learn more about standard plans and premium plans for your teams.
Oxalis can help you migrate your Atlassian products to the cloud effectively and efficiently. They focus on improving collaboration and adoption during the migration process. Visit their website to learn more about their Atlassian cloud migration services.
Stop migration pitfalls with Oxalis
With Oxalis you'll be covered to get rid of pitfalls in your Atlassian cloud migration process. Getting help from an Atlassian Solution Partner as Oxalis can be beneficial when migrating to the Atlassian Cloud for several reasons:
Expertise: We can help you to identify potential issues, provide guidance on best practices, and ensure a successful migration.
Efficiency: Oxalis have the tools and resources to help streamline the migration process, saving time and reducing the risk of errors.
Personalization: Meet your specific needs and requirements, ensuring a seamless transition and optimal performance.
Support: Get guidance and best practices to help your team get the most out of the Atlassian Cloud environment.
We will work closely with your team to understand requirements and implement successfully the Atlassian products.
Get started
Save valuable time and increase productivity without compromising your day-to-day operations with Oxalis. We know how to identify solutions to help optimize your entire business's workflow. We build, integrate, and deploy solutions that fit our customers' unique goals and missions. Get the Atlassian migration support you need with Oxalis. Fill out the form below, for a free no obligation call.