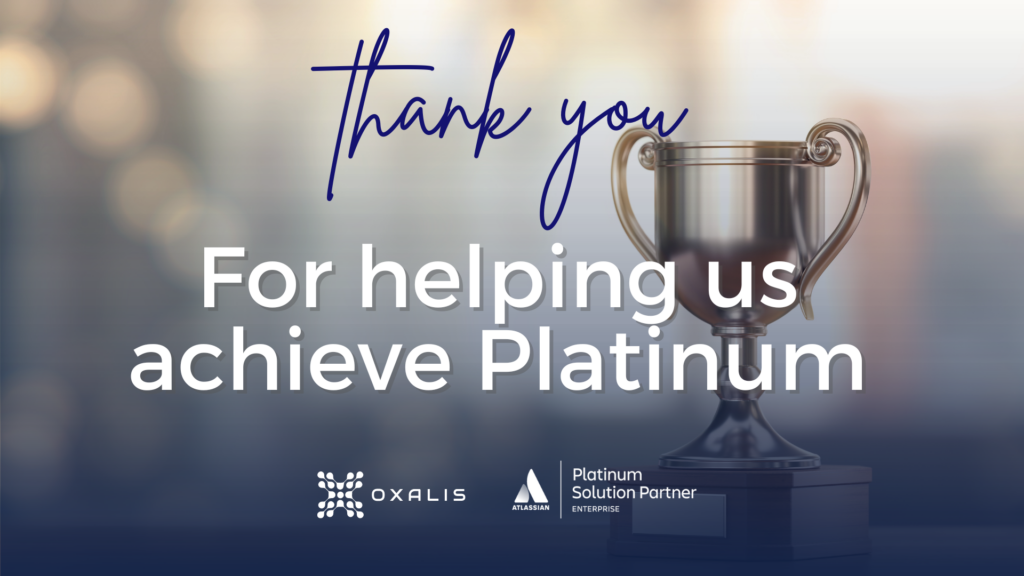 Oxalis is delighted to announce we have reached Atlassian Platinum Solution Partner status. Since joining the Atlassian partner program in November 2018, we won the Rising Star AMER award in 2019 and now Platinum – their highest possible award.
Attaining Platinum status requires the Partner to achieve the highest levels of staff qualifications, product knowledge and proficiency. Values which will be returned to our customers via our superior service delivery and support. We'd like to thank all of our customers who have placed their trust in Oxalis and helped us achieve this important milestone. We would also like to thank Atlassian for their support and dedication in helping us reach this goal.
Looking towards the future, the Oxalis team continues to grow and we are excited to continue servicing both Government and commercial sectors with our strong commitment to scalable Atlassian solutions for all of our current & future customers.
"We're excited to continue working with Atlassian to serve Enterprise customers. Achieving Platinum affords us the ability to better serve our customers of all sizes and industries and is recognition of our knowledge and effort to do so."

Jonathan Malanche, CEO at Oxalis
What does Platinum mean for our customers?
New and existing customers should see across-the-board improvements to our service and support. As a Platinum Solution Partner, Oxalis now has access to premium support meaning we can expedite customer support requests to ensure the shortest resolution times possible. With our increased numbers of certified staff, you can be confident your service requests are handled by some of the most knowledgeable and qualified people in the industry.
Oxalis is proud to continue to be you trusted expert for all of your Atlassian needs!
About Atlassian
Atlassian is an Australian Software company which develops technology products to simplify work management and increase productivity amongst teams. Atlassian utilizes a global network of Solution Partners to implement their products so customers can realize the most value from their products. Platinum status is the highest level a Solution Partner can achieve.
3 ways Oxalis can help your enterprise succeed
Evaluate your current Atlassian services and expenditure to make sure you're getting value for money
Implement improved workflows to streamline your team collaboration and business efficiency
Execute a tailored plan and ensure you are utilizing all tools to their full potential
Get started
Save valuable time and increase productivity without compromising your day-to-day operations with Oxalis. We know how to identify solutions to help optimize your entire business's workflow. We build, integrate, and deploy solutions that fit our customers' unique goals and missions. Fill out the form below, for a free no-obligation call.