Cloud services are more secure, sustainable, agile, and cost-effective than ever before, and companies are finding fewer reasons to stay on premises (also known as 'on-prem'). We've seen over and over the power of moving to Atlassian Cloud, so we'll lay out the reasons here.
Think ROI, not cost
Cost is often where organizations start when they consider moving to the cloud – "can we afford it?" There are two major problems with this approach.
How do you measure cost?
If we're talking about the monthly subscription cost of Atlassian Cloud vs. annual Data Center licensing, Cloud typically looks more expensive. If we factor in the additional costs of migration from on-prem, Cloud will almost always be a more expensive short-term investment. But when we look at long-term value, that's where on-prem starts to look less like the conservative choice and more like a consistent drain on your profits.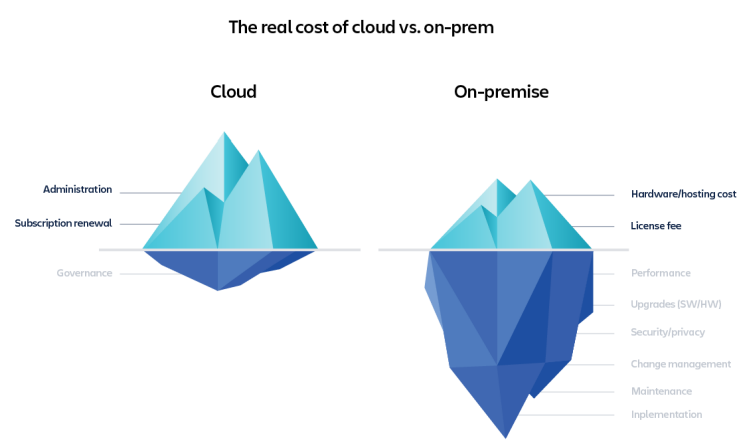 If you only consider the "sticker price" and don't measure the FULL cost of each option, you'll never arrive at a meaningful comparison, and can easily end up making an expensive decision. Home buyers recognize this: a $350K house in good shape has a lower Total Cost of Ownership than a house at the same price that's been neglected, because the latter will come with a never-ending series of unexpected and potentially expensive repairs.
Be sure you consider the hidden costs of on-prem, such as the time needed for maintenance like upgrades and security patches, and the time needed to manage those changes. Essentially, on-prem gets more expensive the longer you use it, because you pay more for it every month – long after you've paid that one-time up-front cost.
ROI: What do you get for that cost?
Atlassian's Cloud products don't just give you the same thing as their on-prem versions; they give you more. To continue the home-buying analogy, many people are happy to pay extra for a house with a beautiful view, or one that's a short walk from a school. It may be more work to assess software platforms the same way, since there's nothing physical to see, but again, you can't make a meaningful decision if you don't compare what you get for the money you spend.
In the case of Atlassian Cloud, the primary value drivers are:
Elevated IT impact
Reallocate infrastructure costs and IT resources to strategic business priorities – and elevate the impact of your IT teams. By freeing up the time and engineering bandwidth typically spent keeping the lights on for your on-prem environment, you can focus instead on things like improving developer experiences and responding to changing business needs.
Accelerated team productivity
Win back valuable time for users and admins with Cloud-only functionality, centralized documentation, and reduced switching between apps. Because Atlassian Cloud is a unified platform, teams find it easier (and faster) to get work done and find the information they need. It will help youbuild smarter plans across multiple teams, keep stakeholders fully informed, and extract deep insights into what teams are working on. Automations save everyone time often wasted onmundane, repetitive tasks. Cloud is the platform for growth, and growth builds from the team level upward.
Built-in security and compliance
Atlassian prides itself on putting security first, even ahead of feature development in its products. When security incidents do occur, they prioritize transparency and fixing the issue. So moving to Atlassian Cloud keeps your data safe and your compliance intact, while – seeing the theme here? – freeing up your security team to focus on thoughtful and strategic security initiatives for your organization.
"70% of enterprises will migrate entirely away from on-premise data centers in favor of colocation and cloud infrastructure, by 2023"

Gartner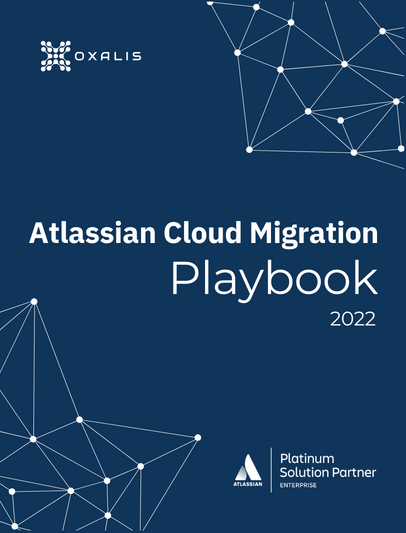 As Atlassian Cloud migration advisors, Oxalis's unique expertise ensures cloud migration success.
The Cloud Migration Playbook, written for any company that needs to migrate from Atlassian Server or Data Center to the Cloud, covers the entire migration process from pre-planning to testing to executing the migration.
What does a Cloud Migration look like?
Even when the value of moving to Atlassian Cloud is obvious, there are also practical considerations. Chief among these is the migration itself – getting all your users, data, apps/add-ons, etc. moved over to and set up in Cloud. So let's get a sense for that process.
The process of moving to Atlassian Cloud can be broken down into the following migration phases:
Atlassian Cloud Migration Phases
Before Migration
At the start of your journey, assess your requirements and decide if Cloud migration is right for you, and what you can expect to change as a result. This is also where you'll analyze your current landscape, and start assembling your migration team. Migrating your Atlassian on-prem instances to Cloud is the biggest (and last) upgrade you'll ever have to make.
Once you know your destination, you can start planning the technical and operational aspects of your migration. This is where you'll choose your migration strategy and method, and get your project plan and timeline in place. As an Atlassian Solution Partner, we can help provide a full audit, and outline different options that work best for you.
It's time to get your people, data, and environments ready to migrate. As your plan takes shape, you can start preparing your site and users for migration to Cloud. At this stage, you may need to upgrade your self-managed product to a supported version, and clean up your data and users so they're ready to migrate.
During Migration
It's almost the end of the finish line! Our support for basic and complex enterprise-level migrations ensures you have a production migration checklist ready to help determine how long it will take, etc. This is an important step to ensure your production migration goes smoothly. At this point, it's a good idea to prepare any training materials your teams might need to help them get used to life in Cloud.
Once your testing is complete, choose the date for production migration. You'll want to schedule your migration when your team is less likely to need access to your self-managed products.
After Migration
Once you're up and running in Cloud, and ready to onboard your users! We provide guides to help you set up and configure your Cloud sites, and easily get your teams started.
Some important questions to answer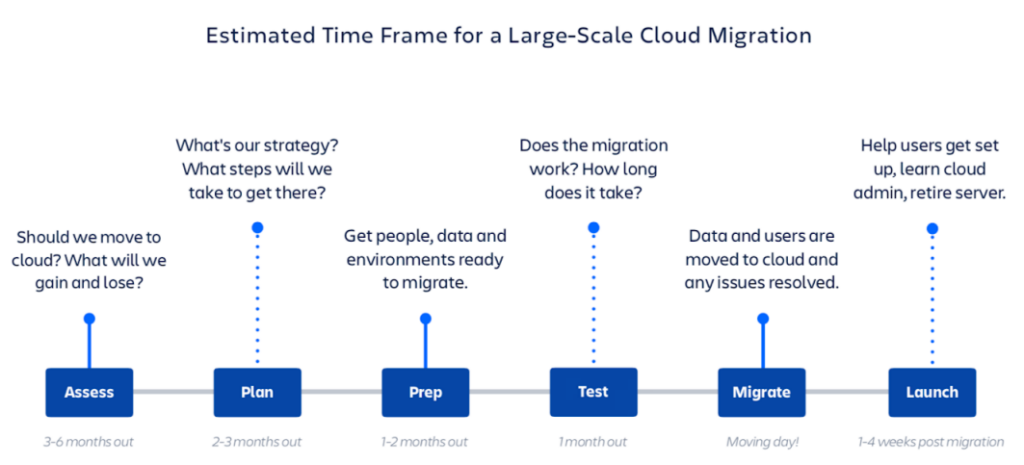 What can Atlassian products do for you?
Jira Work Management
The newest member of the Jira family, JWM is tailored to business teams, to make the many benefits of Jira work especially for them.
Two dozen project templates make it easy to get started quickly on, for instance, employee onboarding, budget creation, or sales pipeline.
Project management views like calendar, timeline, and summary help teams view, track, and manage tasks across time and schedules to hit deadlines.
Forms let you create one or more shareable forms, for a particular project and Issue type, that make it easy for anyone to create new items to a project.
Page provide a place to connect the project with a Confluence space, to easily access and create project documents from within Jira.
Jira Software
In Atlassian Cloud, Jira next-gen projects are entirely independent from one another so teams can make updates to their workflows, quickly, without impacting anything else in Jira.
Give your teams the autonomy to get work done
Build smarter plans across multiples and keep stakeholders informed
Track product adoption to inform smarter budgeting and licensing decisions
Cloud-only and better-in-cloud integrations reduce context switching
Jira Service Management
Jira Service Management helps IT operations, development, and business teams collaborate at high velocity, so they can resolve incidents and respond to business changes fast.
Empower every team to deliver intuitive service experiences
Gain context with flexible asset and configuration management
Conversational ticketing across teams
Confluence
With Confluence Cloud, you can quickly go from idea to content. The Cloud editor comes with more features, shortcuts, and templates that make it a breeze to quickly create beautiful content.
Collaborate anytime, from anywhere to drive team alignment and innovation
Move from idea to execution in an instant without extra clicks
Create quicker and richer content with more accessible templates
Oxalis can help you with your Atlassian Cloud Migration
Start the conversation about Atlassian Cloud with the expert team at Oxalis.