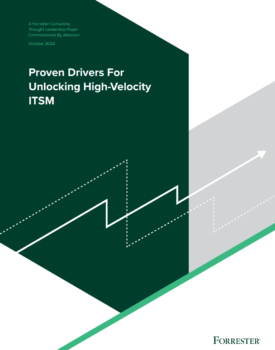 What's inside
Principal challenges for I&O Organizations
Key drivers evaluation
High performers metrics
The proven drivers for unlocking high-velocity ITSM has an obsession with a culture of collaborative, cross-functional product teams and practices that prioritize autonomy, speed, and flexible integrated technology. With the global outbreak of the COVID-19 pandemic, uncertainty has become the new normal for many organizations. As a result, I&O organizations have been tasked with navigating and adapting to these uncertain times. And if organizations want to survive and thrive, they'll need to start responding with higher velocity in a manner that is both faster and more sustainable. Leading I&O organizations must become nimbler and more flexible in their support and partnership with development, embracing the DevOps culture of collaborative teams, practices, and technology.
Atlassian commissioned Forrester Consulting to evaluate the key drivers at play during uncertain times for high performing I&O organizations. Forrester conducted an online survey with 649 respondents who have responsibility for IT service management (ITSM) initiatives in their organization to explore this topic. The survey was fielded during the COVID-19 pandemic, and it found that those high-velocity organizations which embrace more agile and integrated teams lead their industry in terms of performance, positive outcomes, and readiness to change. Organizations can thrive in today's market by focusing on collective (rather than siloed) effectiveness when it comes to people, practices, and technology. Check out this study Forrester Consulting and Atlassian has for you and find the proven drivers for unlocking high-velocity ITSM. If you need some help feel free to contact us.
In case you're still having some doubts about What is itsm or more. Feel free to contact us.