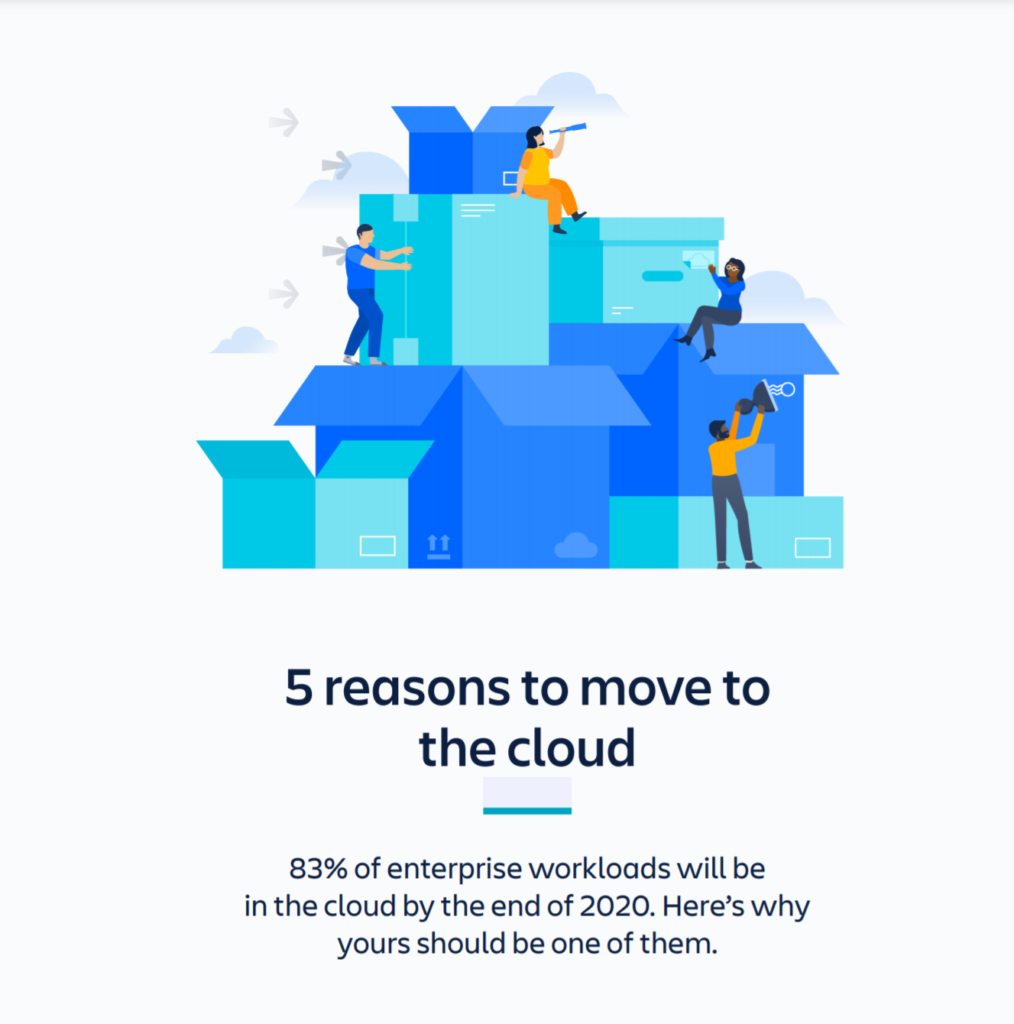 What's inside:
In this whitepaper, you'll learn:
5 reasons to move to the cloud.
5 case studies.
What it takes to get to the cloud.
How to trial the cloud for free.
More and more organizations are moving to the cloud. Experts predict that up to 83% of enterprise workloads will be on the cloud by the end of 2021.
If you're not in the cloud yet…it's time. The highest-performing teams are 24 times more likely to use the cloud than underperformers. So, when we say staying on-premise is holding you back, we mean it. A move to the cloud isn't a button you can push to instantly increase profits, speed, productivity, scalability, and future readiness. But the time and cost it takes to make the move pay off big in the long term. No matter your team size or growth phase, Atlassian has flexible plans and the tools you need in the cloud to not just keep up, but stay ahead.
Atlassian offers their most popular products completely free for teams of 10 or less to help unleash the potential of teams from startup to enterprise. Atlassian Cloud Premium gives teams the confidence to scale reliably with advanced features, plus a 99.9% uptime SLA, unlimited storage, and Premium Support. Not to mention that enterprise companies benefit from large team discounts when they sign up with 101+ users.
Cloud services are more secure, sustainable, agile, and cost-effective than ever before, and companies are finding fewer reasons to stay on-premise (also known as 'on-prem'). In fact, 9 out of 10 new Atlassian customers choose cloud over on-premise—and even die-hard traditionalists are starting to make the move. So, what's driving this mass move to the cloud? Why do experts think companies that haven't made the switch are already falling behind? Learn more by downloading the white paper below, and contact us if you need help deciding if the cloud is right for your organization.