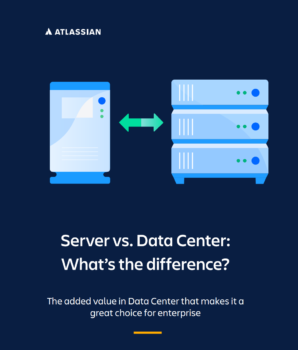 What's inside:
Principal differences between server and data center.
Main group of benefits with Data Center.
Server Vs Data Center has differences, Atlassian's Data Center products offer the same functionality you know and love in Server products, but with even more features and capabilities to better serve enterprises.
Simply put, Data Center is built for enterprises. High performance and availability, scalability, seamless user management, flexible deployment options, and solid security are just some of the ways in which Data Center meets the needs of organizations operating at scale. And, as of February 2021, apps like Team Calendars for Confluence and Advanced Roadmaps for Jira that were once add-ons will now be included in Data Center products.
As an enterprise, you're probably dealing with large, complex, growing, and/or geographically distributed teams. And if those teams need Atlassian products to get their work done, any performance or availability issues can mean a huge loss in productivity.
To better understand the differences between Server and Data Center, take a look at the Data Center roadmap to learn about all the additional features that are currently available or coming soon. In case you need help, thinking about host vs server feel free to contact us.