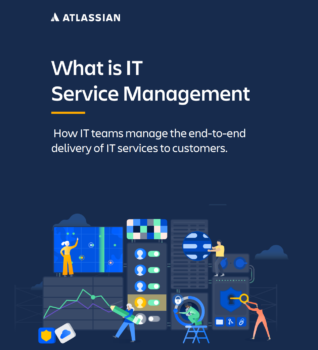 What's inside:
The importance of ITSM.
ITSM processes.
ITSM software and tools.
And more.
IT service management — often referred to as ITSM — is simply how IT teams manage the end-to-end delivery of IT services to customers. This includes all the processes and activities to design, create, deliver, and support IT services.
The core concept of ITSM is the belief that IT should be delivered as a service. A typical ITSM scenario could involve asking for new hardware like a laptop. You would submit your request through a portal, fill out a ticket with all relevant information, and kick off a repeatable workflow. Then, the ticket would land in the IT team's queue, where incoming requests are sorted and addressed
according to importance.
ITSM stands at the center of modernizing organizations. As the rise of software powered service accelerates, IT service teams are enabling employees and teams across organizations to deliver value more quickly. The role of the IT team has transformed from supporting the business to differentiating the business. It's time to move towards approaches to ITSM that emphasize collaboration, ease of use, and faster value delivery. Transform your service desk with the Atlassian approach to IT Service Management.
Due to their day-to-day interactions with IT service management, people often misconstrue ITSM as basic IT support. On the contrary, ITSM teams oversee all kinds of workplace technology, ranging from laptops to servers, to business-critical software applications.
There is a common line of thinking in the IT industry that posits that a proper approach to ITSM should follow three steps in this order: 1) Build and implement IT technology. 2) Bring in and enforce the right process. 3) People can learn the technology and abide by the process. Atlassian flips that paradigm.
For Atlassian, the team comes first. IT teams should be continually learning and improving. They must feel valued and empowered to make a difference in the organization. In case you need some help feel with your Atlassian status, free to contact us.