oxalis.io has released the 2021 Information Technology Ship Repair Trends, the first of its kind for the 4-year-old maritime technology company.
The report's foundation is built on Oxalis founder Jon Malanche's maritime technology experience, spanning the past 6 years working with some of the United States' most forward-thinking shipyards. Additionally, the report features an interview with Ryan Smith, CEO of Fincantieri Marine Systems North America, who provides insight on how shipyards adapted to COVID-19, while addressing an aging workforce and why shipyards are skeptical of technology solutions.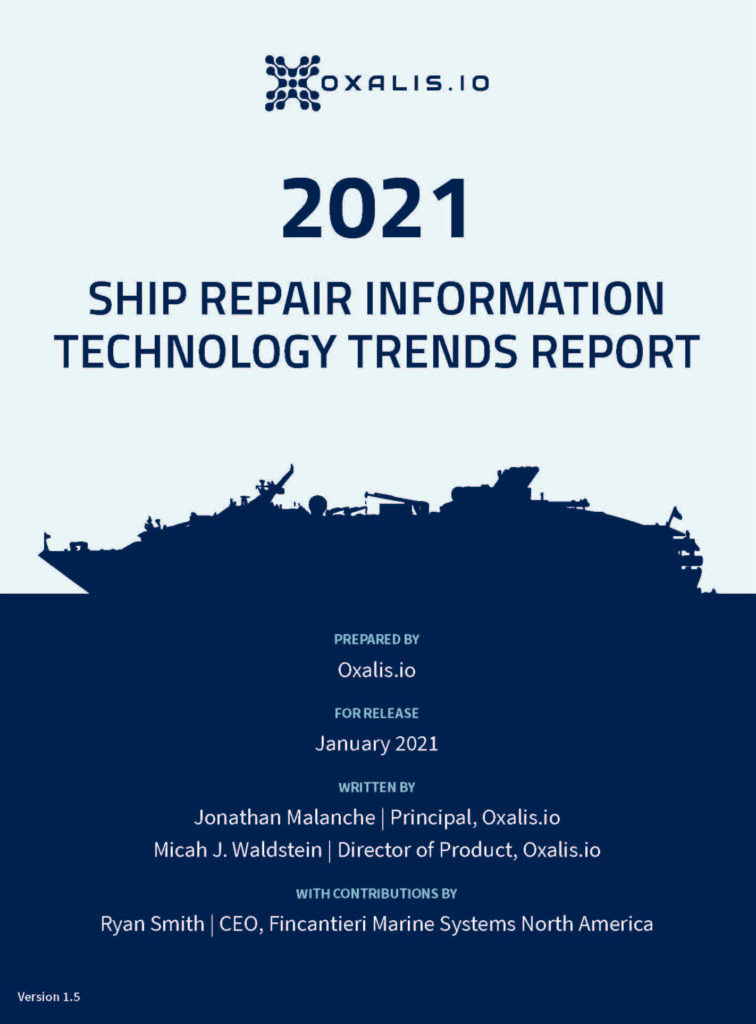 Download the report
Implementing Agile Framework is a cornerstone of the report, as the report found shipyards need to react faster to an ever-changing environment. The report does not express the need for shipyards to change everything they are doing right now, as that is not only unsustainable but also nearly impossible. Shipyards are highly regulated and need to follow processes handed down by their clients. However, even implementing Agile at a smaller project or process scale can make gigantic differences when each day counts.
"In shipyards, you may not make iterative changes to how you perform repair of fabrication, but yards can benefit from thinking about how to rapidly iterate in connected business activities."

2021 INFORMATION TECHNOLOGY SHIP REPAIR TRENDS REPORT
Read the full press release below, and download the report for free at the link. Should you have any questions or comments, or if you would like to be included in our future Information Technology Ship Repair Trends, message us.
---
Full Press Release
OXALIS RELEASES SHIP REPAIR INFORMATION TECHNOLOGY REPORT FOR 2021
The report examines the state of the ship repair industry as it has been, as it is currently, and where it needs to go to keep up with increasing demand.
After 6 years developing software for the Maritime industry, specifically around ship repair organizations, oxalis.io's founder Jon Malanche and Director of Product Micah Waldstein have released the company's first industry report, assessing the current and future state of ship repair organizations and the technology that supports them.
"Technology will be a competitive advantage for shipyards, and winners will be those who can effectively and rapidly bring that advantage to bear", the report states.
The most apparent gap revealed in the report is the industry's lack of Agile practices that could help shipyards shorten feedback and communication cycles between contractors and subcontractors, thereby speeding up the ship repair process by days at the execution level and months at the planning level. Each saved day results in wrapping jobs faster, allowing for more projects over the course of the year.
"This is not a new idea for the ship repair industry," said Oxalis founder Jonathan Malanche. "But, ship repair organizations have been duped and neglected by project management software time and time again. We wanted to write this report to demonstrate the value management technology brings, and so they know they're not neglected anymore."
The report also features an interview with Ryan Smith, CEO of Fincantieri Marine Systems North America. Smith explained challenges on the deckplate, from COVID precautions to an aging workforce to technology resistance.
"I don't think there has been an industry leader that has adopted some sort of technology proving that it's the way to go," Smith said about the industry's lack of adoption. "Someone needs to prove the savings costs are significantly outperforming, and outperforming the competition."
— End —