IT teams are recognizing they need far more dynamic infrastructure to support their business needs. We're finding many companies moving the operation of their applications and services from behind their firewalls to the cloud, to support the more dynamic needs and cost sensitivities of their businesses.
Here's an interesting prediction from Gartner: 80% of ITSM teams that don't adopt agile ways of working will get ignored or bypassed as a result of more agile ways of working being adopted elsewhere in the organization. And we're seeing this play out, with companies shifting the way I&O teams are organized. They're either forging closer ties with Dev / DevOps teams or embedding Dev or Engineering teams within ITSM and IT Ops teams.
Atlassian's mission is to unleash the potential of every team.
They're known for their agile solutions to help teams plan and track work.
They've continued on to DevOps solutions to help developers and SRE teams to flow code through to release
Now, Atlassian has expanded into IT service management solutions for post-deployment capabilities for Infrastructure & Operations (I&O) and support teams.
Jira Service Management is designed to unlock high-velocity teams
It rapidly brings together dev, IT, and business teams to deliver, operate and support exceptional service experiences. While specialized for IT teams, JSM recognizes that the service desk model works well for a wide variety of teams and supports them too.
How does it do that?
Work is collected: Customers (internal or external) use a web portal, an embeddable widget, or email, or even an API service to submit their questions, complaints, errors, comments, etc., as service requests to your team.
Teams work: All those requests arrive in a project that is dedicated to the team in question and geared to the type of work they do, from IT to HR to legal and more. JSM comes with a variety of project templates tailored to suit certain teams. The project's service agents work the requests, communicating with the requestor using comments and moving the request through a workflow as progress occurs.
Work is tracked: Customer requests are tracked as 'issues' in one or more queues, which gives agents one place to go to see what new work there is to do, and the status of existing work. Reports help team members and managers monitor the team's workload, throughput, effectiveness, and more.
Work is reduced: When paired with Atlassian's collaboration product Confluence, each project can have its own knowledge base – a set of articles written for customers so they can help themselves before reaching out to you. Furthermore, the issues that agents work can show them previous related issues, enabling them to resolve customer requests more quickly.
Incident management is supercharged: You get major incident management, on-call scheduling, alerting, incident swarming, and more – powered by Opsgenie, another Atlassian product included in all Cloud JSM plans. These features seamlessly integrate with your service project, allowing you to instantly let the right people know about critical issues while giving them the context they need to take action. Connect Opsgenie with Jira Software, Bitbucket, and Confluence to orchestrate the entire, end-to-end incident resolution process across development and IT operations teams.
With Jira Service Management, your teams can:
Deliver value fast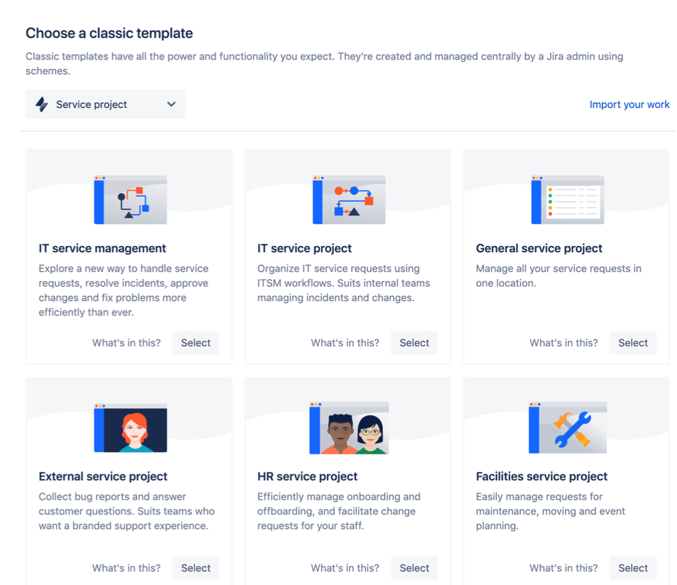 You can deliver great service experiences fast – without the cost and complexity of traditional ITSM solutions. It's easy to deploy and use. JSM's flexible product design makes it easy for every team to be a service team, be it IT, HR, marketing, finance, or legal; any team that handles requests from other teams. Teams can easily customize their fields, workflows, and processes to match the way they deliver service to their business counterparts.
Make work visible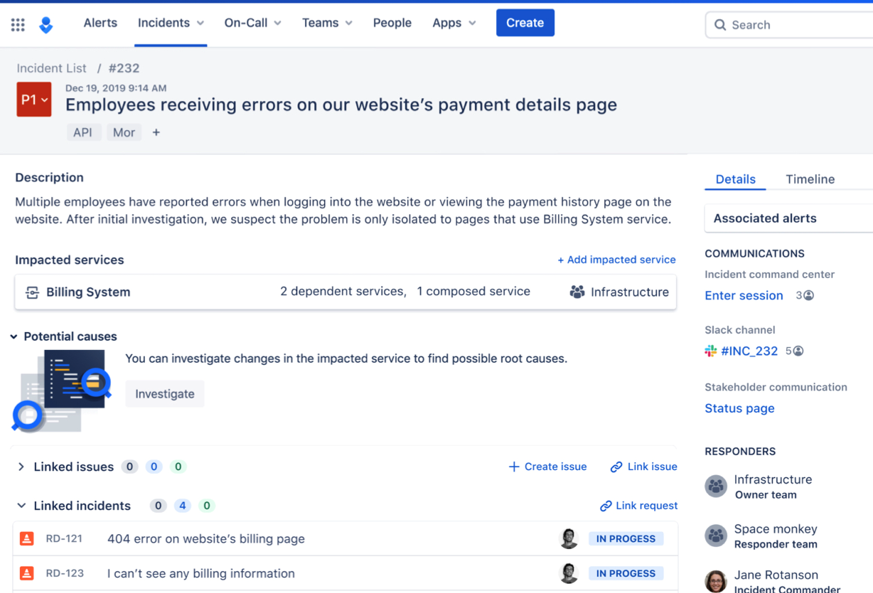 Jira Service Management makes work across teams more visible so it's easier to collaborate and get work done. The open collaborative platform provides rich contextual information for faster and more effective decision-making. Because all the work and its details are centralized, issues can be moved or linked across projects. And it can be reported on at any level, from team leaders to senior executives. The more teams use JSM, the more everyone benefits.
Dev + Ops that flows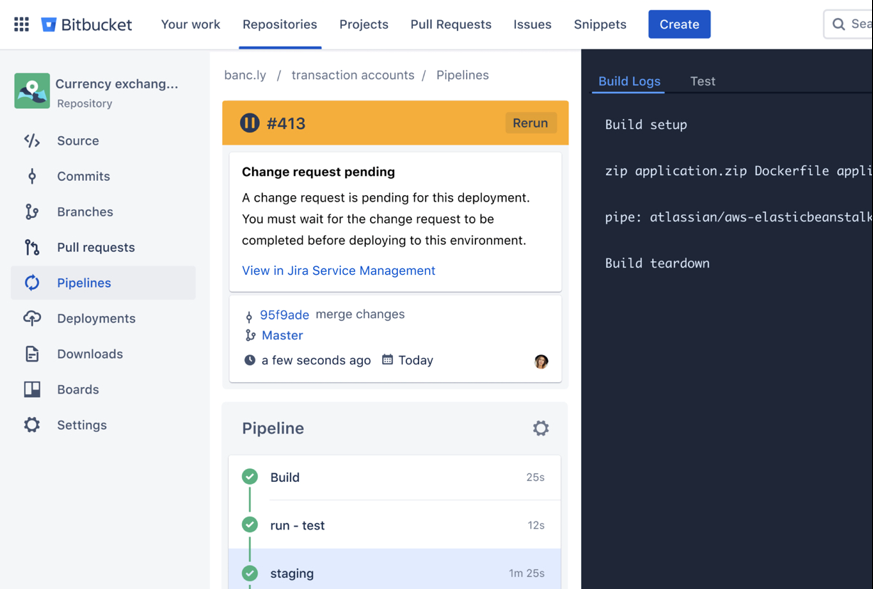 Thanks to Oxalis's heritage in development, we understand the need to accelerate the flow of work between Development and IT Operations teams. With Jira Service Management, you can seamlessly speed business requests through to development, and on to operations, and back again. So you can go from ideas to operations fast.
Jira Service Management is built on the Jira platform. Atlassian provides seamless integrations to unite dev and IT teams and enable them to collaborate and work faster.
For example, Atlassian built deep integration between popular CI/ CD tools and Jira Service Management to speed low-risk changes through auto-approvals and deployments while sending high-risk changes for approval. Learn more about the Atlassian products.
This unblocks your development team and removes friction, while still giving your IT Ops a complete audit trail of the changes deployed, critical for compliance and risk. All in one place: Jira Service Management.
ITSM Practices
Empower teams to deliver value fast with customized workflows for each team, standardized on a global platform.
Discovery questions:
How does a user currently ask for help?
How are your requests routed to IT support staff and how do they work to fulfill requests?
How do you measure how well you're delivering service? How do you measure improvements in your support services?
What are the top priorities for your service desk?
How would you describe your current self-service request catalog maturity?
What would be the ideal future state of your service desk / service request management practice?
Have you integrated knowledge management into your service desk for self-service?
Do you know your cost per request, for example, compared to other companies in your industry?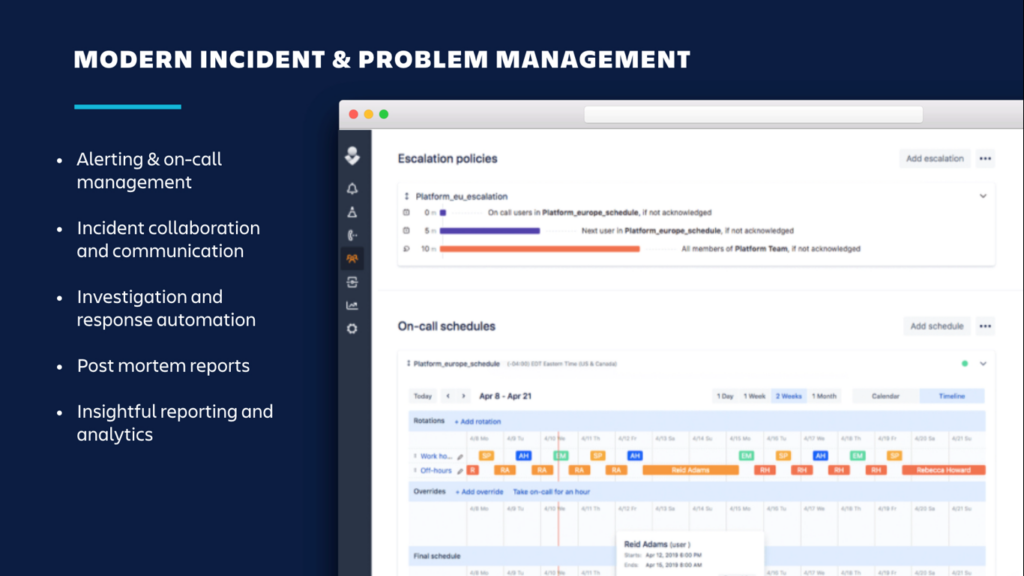 Bring your development and IT operations teams together to rapidly respond, resolve, and continuously learn from incidents.
Discovery questions:
Do you have company applications or services that require 24/7 uptime?
What are you trying to achieve with better incident management?
How would you describe your process for managing a major incident?
What's the timeline like for a typical incident for your organization?
How did people collaborate in the last major incident you worked on?
What have you tried in order to improve incident management performance?
What would be the ideal future state of incident management?
Streamline change management and get richer contextual information from software development tools, to make better decisions and minimize risk.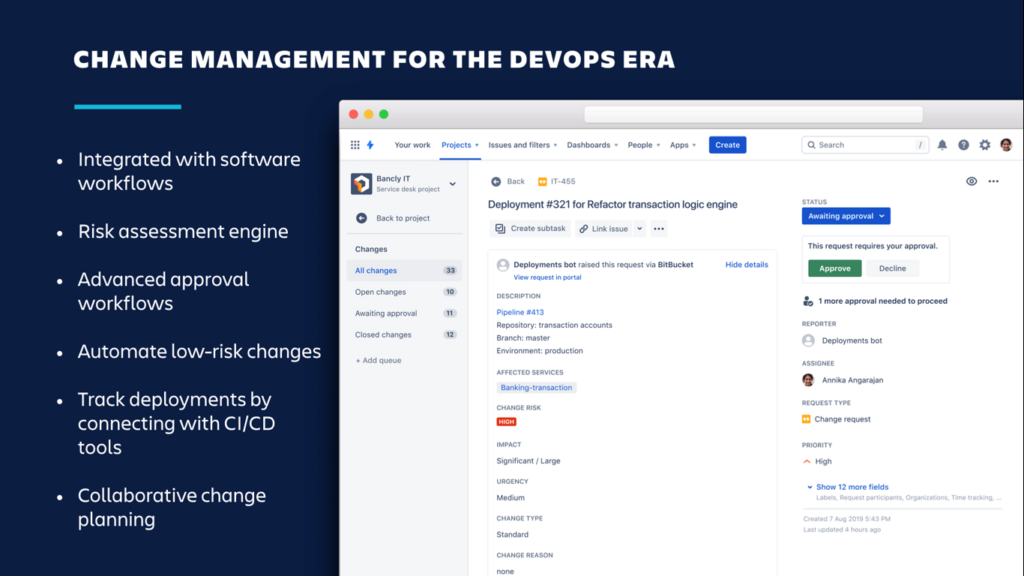 Discovery questions:
How do you manage IT infrastructure and production system changes?
Which tool(s) are you using to manage your current IT change cycle?
How do you handle different types of changes (standard vs normal)?
How do you measure risks and analyze the dependencies of a change request?
How do you track the schedule/timeline related to changes?
How do you align with stakeholders on your planned/implemented changes?
Does your organization leverage the concept of a CAB for change approvals?
How do you retain the knowledge of a successful/failure change for future reference?
What key change metrics does your organization track (volume, success/failure, compliance, etc.)?
Store assets in Insight to manage inventory efficiently, track ownership and lifecycles, and reduce costs.
Discovery questions:
What are the assets for you?
Where are your assets? Do you have a data center or are you running your workloads on Cloud?
How many assets do you manage? (If known)
Do you update your asset records manually or automatically?
What type of systems do your IT operations team manage? (SCCM, Vmware, AWS, Azure, Google Cloud, Jamf, Device42, another CMDB, Excel, etc)
How would you describe your current challenges regarding your assets?
What would be the ideal future state of your Asset Management practice?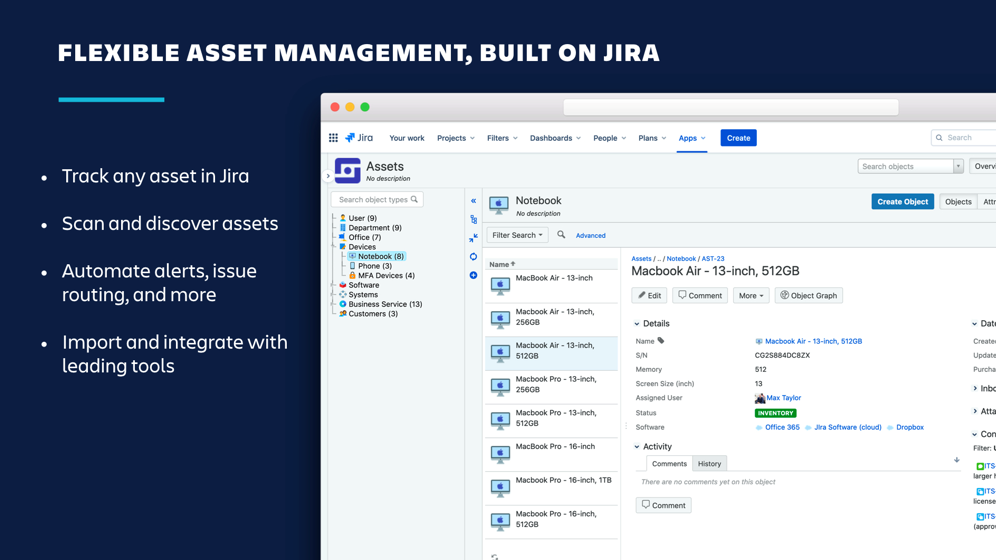 Gain visibility into the infrastructure that supports critical applications and services. Use Insight to understand service dependencies so you can minimize risk.
Discovery questions:
How do you currently manage applications and systems today?
Do you use a CMDB today to manage your CIs? What do you manage in it? (e.g. systems or services; devices and infrastructure)
What is the estimated number of CIs you're looking to manage?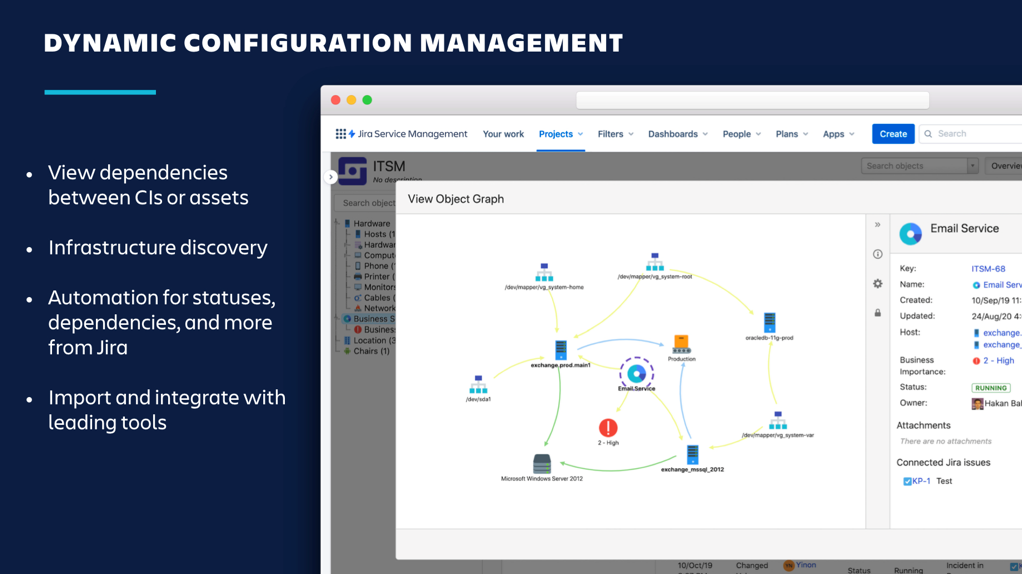 Leverage Confluence for an open approach to knowledge management. Foster team collaboration across ITSM practices.
Discovery questions:
How easy is it for users to find the information they need?
How do you keep articles in your knowledge base updated?
What percentage of your requests could be deflected through self-serve help articles?
How do you collaborate on and store troubleshooting guides and runbooks for your team?
How do you track and report on usage of your knowledge base?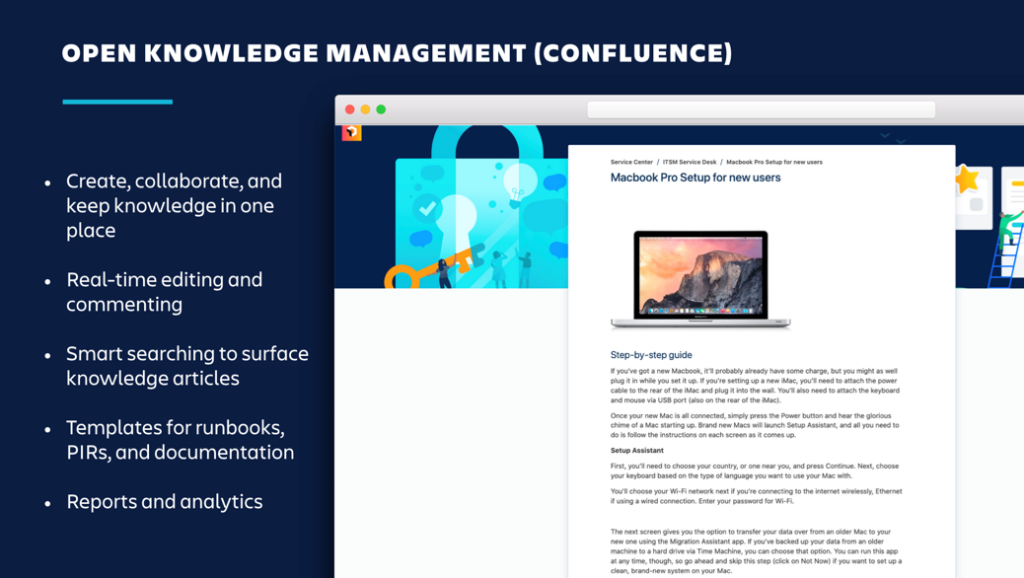 Comparison Guide
Principal highlights between Jira Service Management Free, Standard, Premium and Enterprise
Features
Free
Standard
Premium
Enterprise
User limit (per site)
3 agents
5,000 agents
5,000 agents
5,000 agents
Customer limit
Unlimited
Unlimited
Unlimited
Unlimited
Site limit
One
One
One
Unlimited
Support Team
Atlassian
Community
Cloud support
team (Regional
business hours)
Cloud support
team (24/7
Premium
support)
Dedicated
senior team
(24/7 Enterprise
support)
Storage
2 GB file
storage
250 GB file
storage
Unlimited
Storage
Unlimited
Storage
Incident Creation
Manual
Manual
Manual,
automatic, API,
and template
Manual,
automatic, API,
and template
SSO, SCIM, Active Directory
Sync
Requires
Atlassian Access
subscription
Requires
Atlassian Access
subscription
Requires
Atlassian Access
subscription
Included
Knowledge base
Requires
Confluence
subscription
Requires
Confluence
subscription
Requires
Confluence
subscription
Requires
Confluence
subscription
Contact Us