The knife cuts both ways: on one hand, the technology sector has not supported the maritime industry with customized software that addresses specific needs.
On the other hand, shipyards have not pushed the issue, choosing to maintain increasingly antiquated technology solutions like Microsoft Excel and Sharepoint or developing technology in a silo.
A culmination of Oxalis Founder Jon Malanche and Director of Product Micah Waldstein's experience, the report covers a range of topics, from Agile methodology to tech's abandonment of maritime.
Read more in the Executive Summary below.
Download the Ship Repair Information Technology Trends Report
---
Oxalis Ship Repair System (OSRS)
Oxalis Ship Repair System, or OSRS, is the key solution for ship repair organizations looking to optimize and improve their ship repair execution utilizing data and rapid communication. OSRS is the upgrade for those using Excel and email to manage CFRs and RCCs, while the NMD integrator seamlessly files TIPs.
Oxalis Estimation
Oxalis Estimation—created for shipyards but updated for any industry's estimation project—introduces robust data capture and machine learning to a previously manual process.
In the report, Ryan Smith of Fincantieri Marine Systems notes the necessity of creating, capturing, and utilizing industry knowledge. Oxalis Estimation offers that solution.
Maritime Agile Consulting
A key theme of the report surrounds Agile Methodology, which helps shipyards improve cycle time and complete jobs faster with more efficiency.
Oxalis has successfully implemented Agile with shipyards around the country to improve the speed and efficiency of their ship repair processes.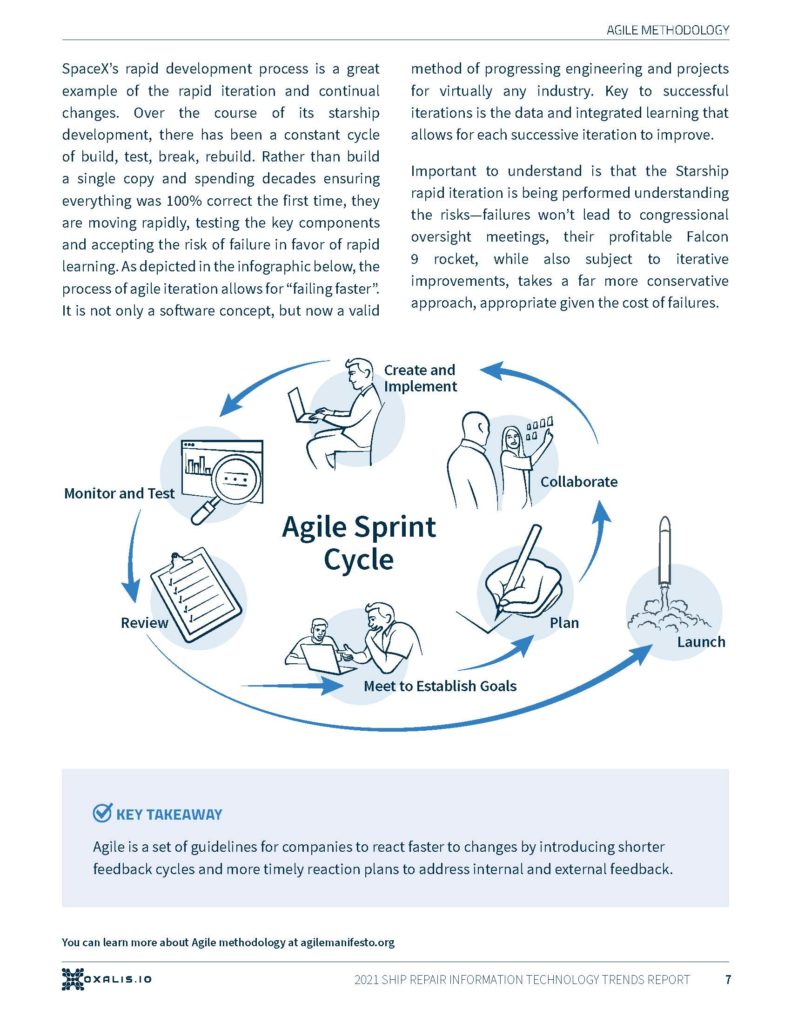 Executive Summary
This Ship Repair Information Technology report analyzes and defines opportunities for improvement in the maritime industry, specifically with ship repair organizations. However, the lessons and analysis can be applied generally to ship repair organizations and processes.
Ship Repair organizations have been up until this point resistant to adopting time and money-saving technology solutions in favor of manual, Excel-based systems. These systems, while filling a required gap during project management technology's infancy, have largely become antiquated as shipyards have experienced unprecedented demand with increasingly limited space. In 2020, the DOD reported a concern of future shipyard capacity, and in order to not only grow the business but gain a technological advantage over competition, shipyards need to modernize practices.
It's time for ship repair organizations to adopt efficient workflows and processes that enable time and money saving technology solutions. As the industry is notoriously siloed to maintain competitive advantage, it is also losing the valuable collaboration that would otherwise allow it to develop the tools necessary to keep up with demand. Not to mention, compliance standards are only getting more strict and technology-driven.
---
Now, ship repair organizations need to adopt technology solutions not only to improve efficiency, but also to ensure compliance standards are not over burdening their employees and systems.
The Agile methodology, created for software development but widely accepted and applied today, is the starting point for ship repair organizations looking to modernize their practices. The framework, supported by technology, introduces faster action and feedback cycles to ensure actions are progressing quickly and accurately.
Supplementing the methodology with software like Oxalis Ship Repair System (OSRS) and OSRS Estimation help to automate, track, and manage repair systems in an Agile environment. Ship repair organizations need to utilize machine learning and artificial intelligence technology in secure environments to automate and shorten the cycle for employees and subcontractors, producing faster and more accurate results.
In this report, we've used collective industry knowledge from our team, led by oxalis.io founder Jon Malance, as well as industry experts and leaders. The report is based on successful implementation and analysis of these technology solutions, as well as trend forecasting and evaluation.
Should you have any questions or comments related to this 2021 Ship Repair IT Trend Report, please contact info@oxalis.io.